With two-thirds of the year done, the Bitcoin Obituaries list has recorded a decline in memorials compared to the last ten years, tallying just seven so-called bitcoin death announcements in 2023. The last sentiment of demise was voiced by tech magnate Chamath Palihapitiya, who proclaimed "crypto is dead in America" last April.
Bitcoin's Steady 2023: Only 7 'Deaths' So Far
Since April 27, 2023, spanning roughly 161 days, Bitcoin and the broader crypto realm have been free from any death proclamations. The Bitcoin Obituaries list on 99bitcoins.com reveals a tally of just seven such deaths this year, marking the fewest since 2012. For context, the list documented a lone eulogy in 2010, six in 2011, and a singular one in 2012.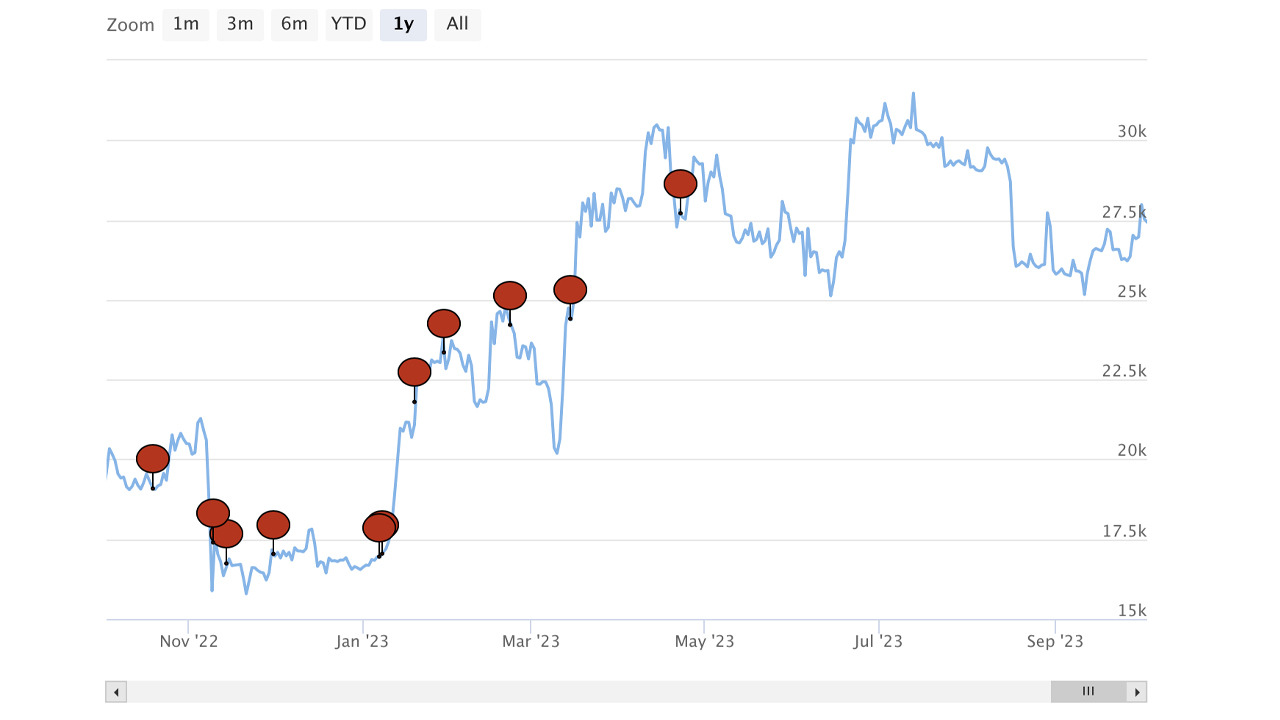 Last 12 months of bitcoin death proclamations, according to the Bitcoin Obituaries list on 99bitcoins.com.
Come 2013, the narrative shifted with a surge to 17 recorded bitcoin death announcements. In 2014, the count rose to 29 and further climbed to 39 in 2015. However, 2016 saw a dip, registering 28. But the peak came in 2017, with a staggering 124 bitcoin eulogies noted. To date, 2017 holds the record for the most bitcoin obituaries in any given year.
In 2018, bitcoin faced 93 death declarations from skeptics, and 2019 witnessed 41 such announcements. The count dwindled to 14 in 2020 but rebounded to 47 in 2021. Last year, 2022, showed a moderate uptick with 27 recorded. As we head into the final third of this year, we'd need another eight bitcoin death proclamations to surpass 2020's tally. The most recent death proclamation came in April, courtesy of Chamath Palihapitiya, who declared, "crypto is dead in America."
He made this bold assertion on an episode of the "All-In" podcast, which delved into a myriad of topics and technologies. Prior to that, chief economist Robin Brooks had weighed in, suggesting that bitcoin turns out to be "just another bubble asset that blows up when the Fed gets serious about hiking interest rates." When Palihapitiya delivered his crypto eulogy, BTC was priced at $27,817.50 per unit. Fast forward to October 5, 2023, and it's hovering around a similar mark.
What do you think about the low amount of bitcoin eulogies this year? Share your thoughts and opinions about this subject in the comments section below.