Institutional investors have steadily increased their accumulation of Bitcoin since BlackRock filed an application for a spot BTC ETF. This has coincided with when BTC balances across exchanges have fallen to new lows.
Data from ByteTree showed that the amount of Bitcoin held by funds rapidly grew to nearly 850,000 BTC in June. Crypto analyst Miles Deutscher suggested that the growth indicated the "beginning of widespread institutional BTC accumulation."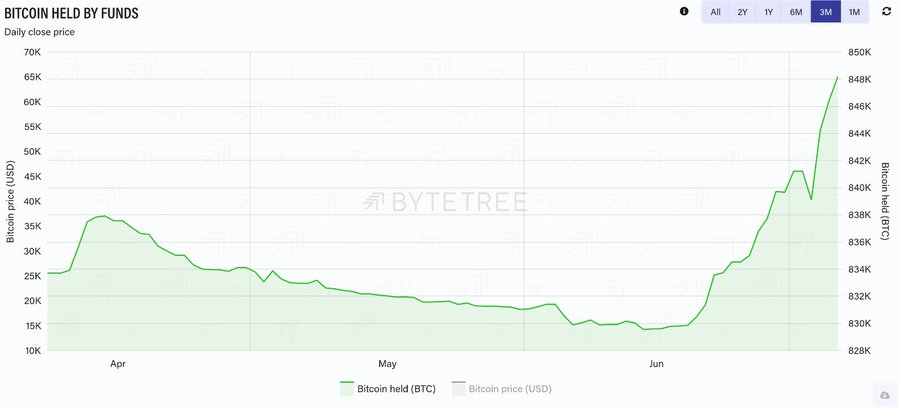 Bitcoin Institutional Accumulation (Source: Twitter/Miles Deutscher)
Institutional Investors BTC Accumulation
Over the past month, institutional interest in Bitcoin rose as several traditional financial institutions like BlackRock, Fidelity, and others applied for spot exchange-traded funds (ETF). While the U.S. Securities and Exchange Commission (SEC) has yet to approve a spot BTC product, crypto industry experts quickly embraced the positive market sentiment triggered by the ETF applications.
For context, MicroStrategy purchased an additional 12,333 BTC for $347 million on June 28, bringing the company's total BTC holdings to 152,333 Bitcoin. This purchase continued the firm's chairman Michael Saylor's unwavering conviction in the flagship digital asset.
Glasnode data further corroborate the increased institutional interest in the BTC market. According to the data provider, the number of BTC whales reached a 1-month high of 1,685 on July 7. A whale is an organization with a substantial amount of BTC, typically 1,000 BTC or $10 million and more.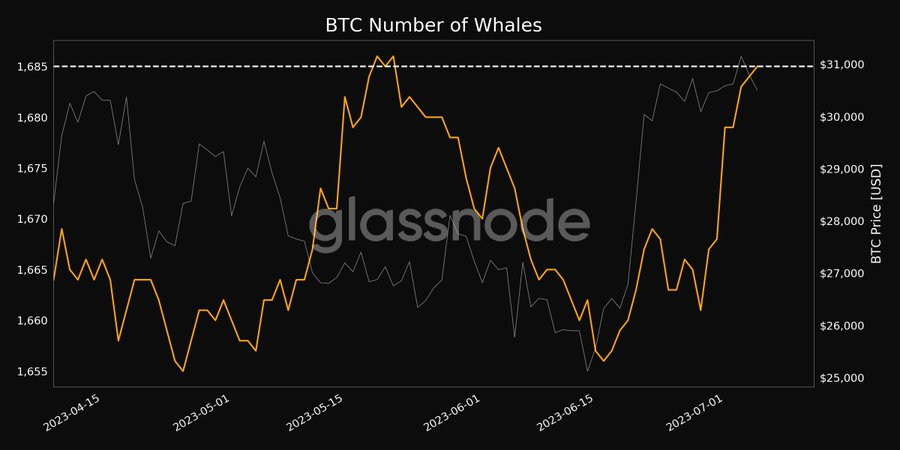 BTC Whales (Source: Glassnode)
Besides that, previous institutional skeptics' perception of Bitcoin has become increasingly positive. The recent statements of BlackRock CEO Larry Fink best captures this changed stance.
Fink, who has long been a critic of BTC, recently spoke in support of the flagship asset. The BlackRock CEO described it as an alternative investment to hedge against the devaluation of the currency.
He said:
"Bitcoin is not based on any one currency, and so it can represent an asset that people can play as an alternative. It's digitalizing gold in many ways."
BTC Exchange Balance Falls to 5-year Low
Meanwhile, the increased accumulation of institutional investors has coincided with a drop in Bitcoin balance on exchanges, suggesting that investors increasingly favor self-custody.
Glassnode data shows the BTC balance on all exchanges currently sits at 2.26 million, the lowest balance since March 2018.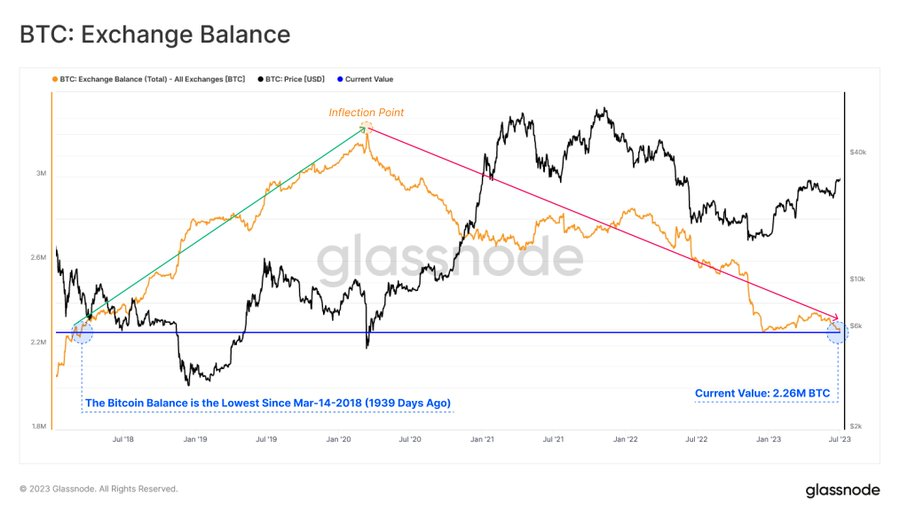 BTC Exchange Balance (Source: Glassnode)
Meanwhile, BTC continues to trade above $30,000, reaching a yearly high of $31,500 recently. It is trading for $30,273 at the time of writing, according to BeInCrypto data.