After charting a two-week high above $28,000 on the wings of Grayscale's court win over the SEC, bitcoin has started to lose traction once more, dropping by a grand.
Most alts have also retraced today, with SOL leading the pack from the larger-cap ones.
BTC Down to $27K
Bitcoin's price performance until earlier this week was untypically calm. The asset had tried to reclaim $27,000 last Thursday but failed, and the subsequent rejection brought it back down to a familiar ground of $26,000. The following several days were uneventful, as BTC couldn't move more than $100-$200 in either direction.
That all changed on Tuesday when a US court ordered the SEC to vacate its decision to reject the review of Grayscale's application to turn its flagship fund – GBTC – into a spot Bitcoin ETF. Although this doesn't necessarily mean that such a product will see the light of day, BTC reacted with an immediate price surge.
In a matter of a few hours, the cryptocurrency soared by over two grand to a two-week high at over $28,000, leaving $80 million in shorts liquidated.
Since then, though, the asset has failed to double down on its uptrend and has retraced by about $1,000. Its market cap is down to $530 billion, but its dominance is still riding high at 48.9% on CMC.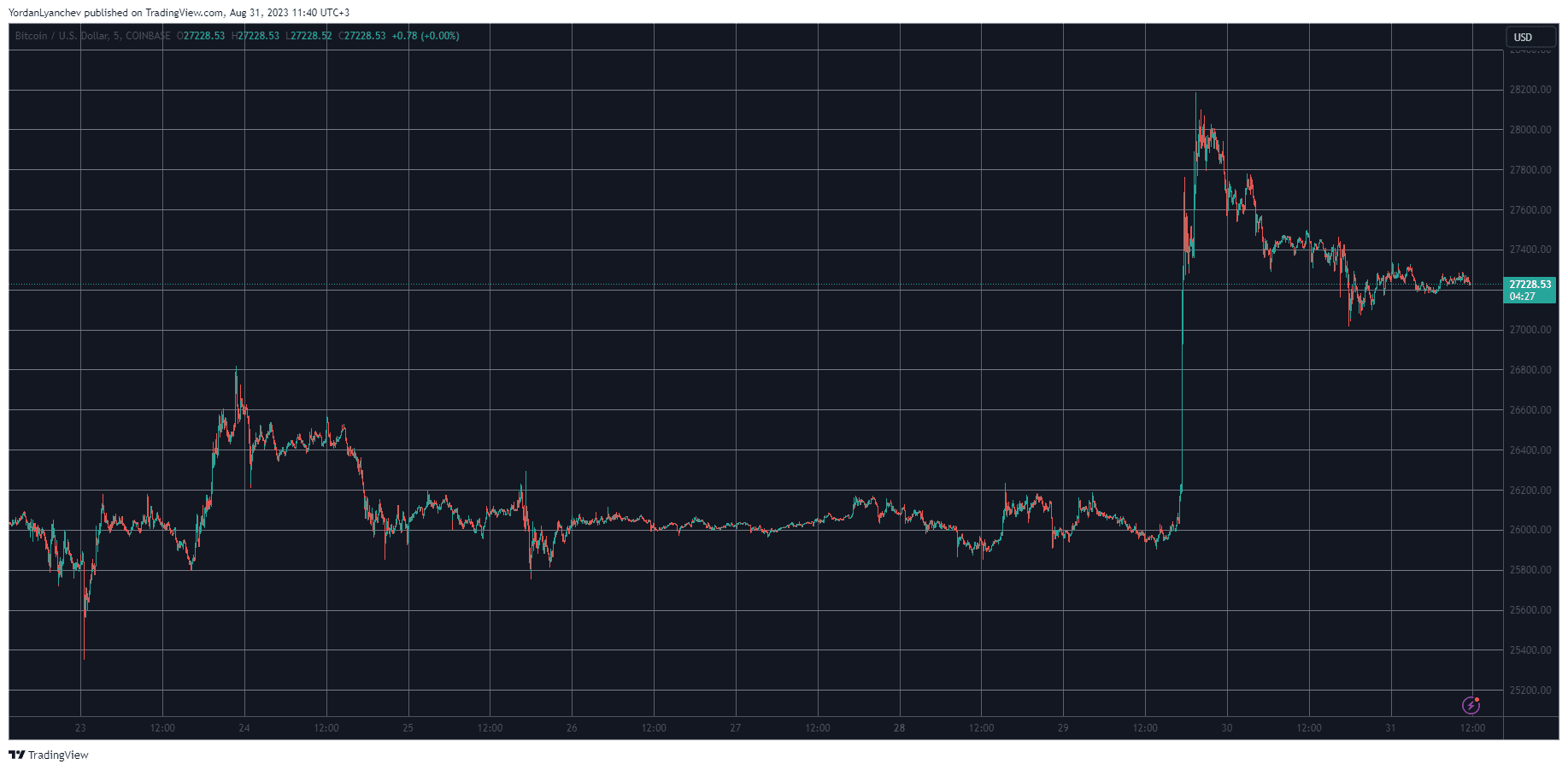 SOL Down 4%
Most altcoins followed bitcoin on its way up, charting impressive daily gains. Yesterday's top performers were BCH and TONCOIN.
Similarly, though, most have turned red today, with minor losses. ETH is down by 0.5% but manages to remain above $1,700. BNB has slipped by 1% and is just below $225.
Ripple, Cardano, Tron, TONCOIN, DOT, MATIC, LTC, and SHIB are also slightly in the red. Solana has lost the most from the top 10, dropping by 4%. Nevertheless, SOL is still above $20.
In contrast, Dogecoin has added 1.5% of value overnight and trades above $0.065.
The total crypto market cap has lost some ground as well but is still above $1.090 trillion on CMC.