Bitcoin (BTC) shed 2% into the start of August as traders' expectations of further downside slowly came true.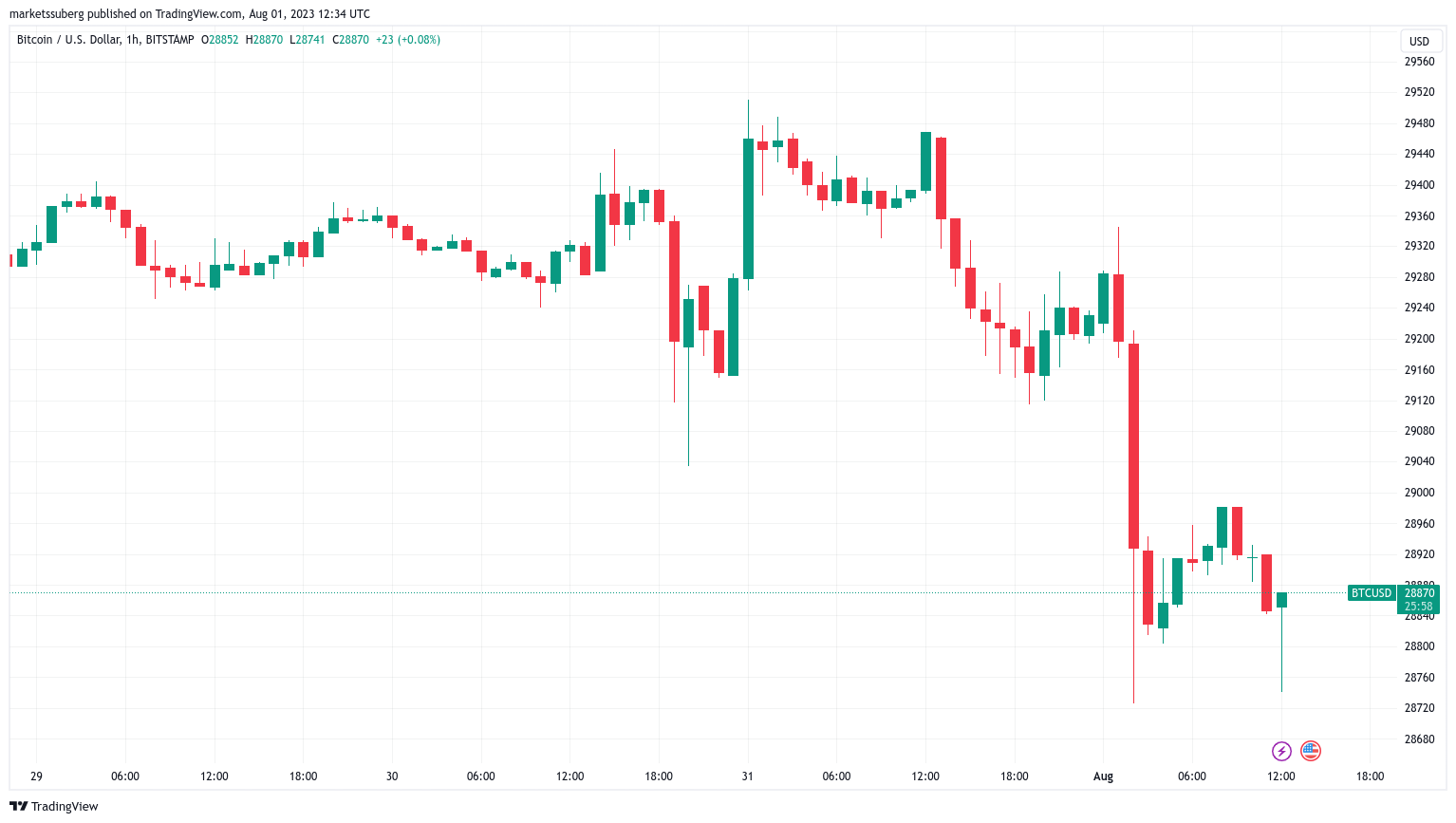 BTC/USD 1-hour chart. Source: TradingView
Bitcoin short-term holder breakeven point in focus
Data from Cointelegraph Markets Pro and TradingView showed BTC price trajectory leaning lower at the July monthly close.
Volatility was already anticipated, and BTC/USD did not disappoint after a week of barely any movement whatsoever. Bulls, however, were left in the cold.
For popular trader and analyst Rekt Capital, the close price was significant, but demanded that buyers now step in to protect the trend.
Commenting on a chart showing relevant levels and Bitcoin's potential moves, he flagged $29,250 as the line in the sand.
"Instead of BTC Monthly Closing above the ~$29250 level (black)… $BTC printed a Monthly Close marginally below the ~$29250 level. BTC needs to reclaim ~$29250 as support for the blue path to be valid," he wrote.
"However, there are some initial signs of the ~$29250 acting as resistance this month. If this persists then price could actually reject from here and drop lower via the red path. All about the black ~$29250 now."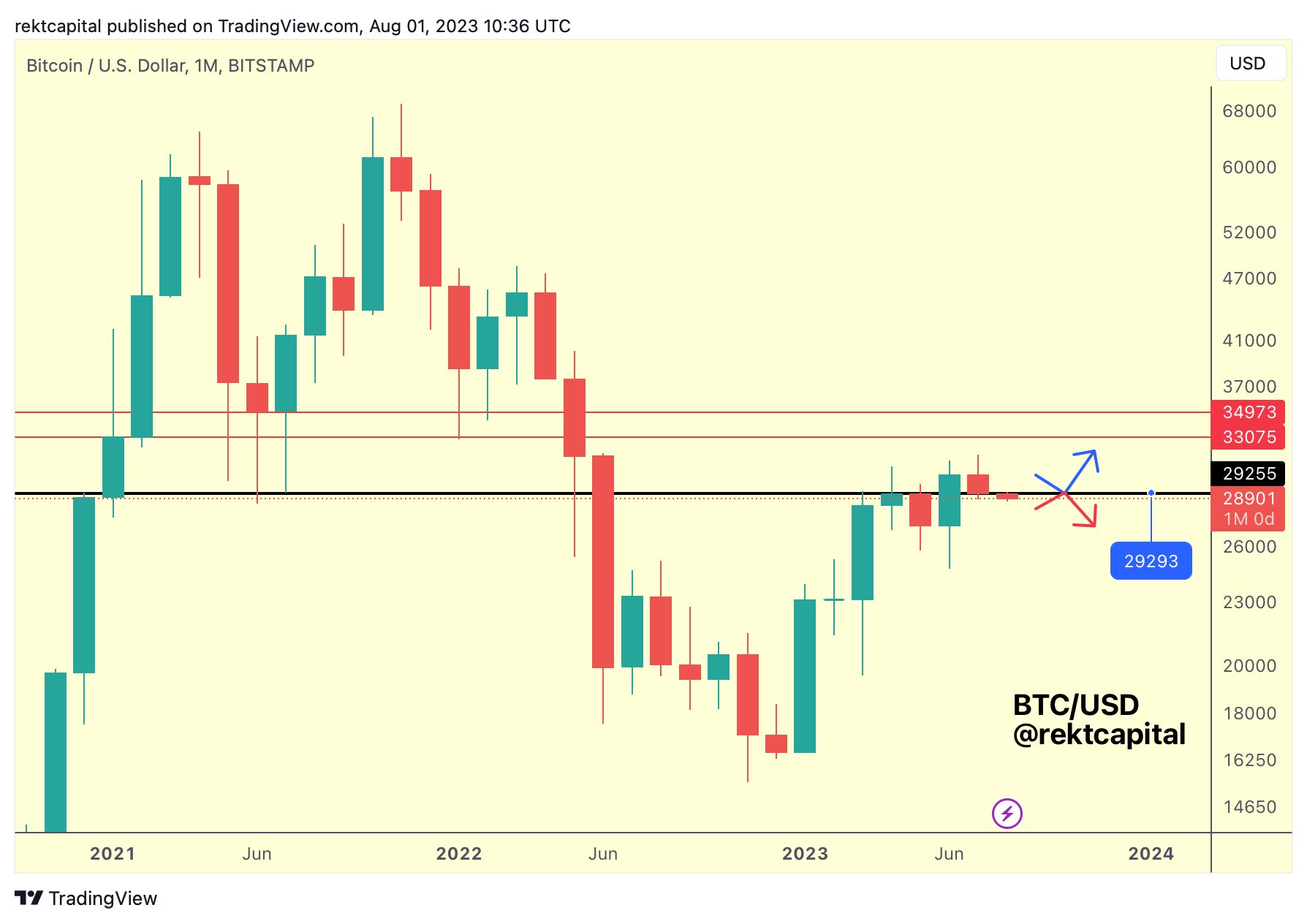 BTC/USD annotated chart. Source: Rekt Capital/Twitter
Looking to short-term targets, meanwhile, many market participants acknokwledged that the area around $28,000 should come in for a test.
In particular, $28,300 stood out, this being the cost basis of Bitcoin's speculative investor base, known as short-term holders (STHs). These are defined by on-chain analytics firm Glassnode as entities hodling BTC for a maximum of 155 days.
"Fully expect Bitcoin to test the short-term holder cost basis, which is $28.3K. This would be the third time testing this support level this year," James Straten, research and data analyst at crypto insights firm CryptoSlate, forecast on the day alongside Glassnode data.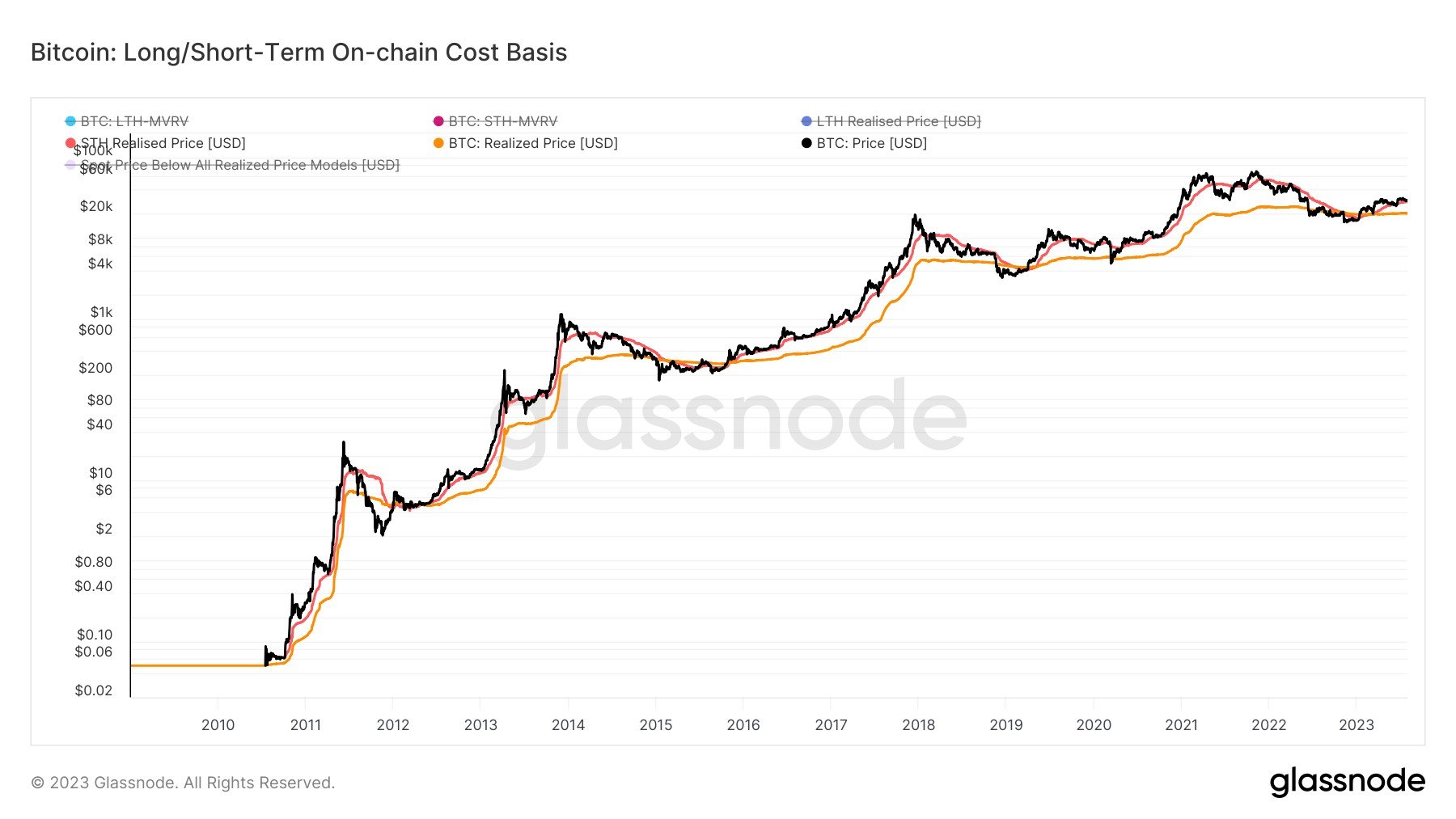 Bitcoin long/short-term cost basis data. Source: James Straten/Twitter
As Cointelegraph reported, the STH cost basis has figured as support throughout recent months, with STH selling intensity likewise on the radar as a hurdle for bulls to overcome above $33,000.
Key BTC price moving average inches closer
Continuing, popular trader Titan of Crypto described $28,300 as the "level to watch" for the coming week.
Related: BTC price 'fireworks' after monthly close? 5 things to know in Bitcoin this week
#Bitcoin Update (Weekly Timeframe) #BTC seems to be following the plan.
$28.3k is the key level to watch this week. https://t.co/ZFCbYOwCb3 pic.twitter.com/CoTl5sywQC

— Titan of Crypto (@Washigorira) August 1, 2023
Daan Crypto Trades meanwhile eyed the 200-week moving average (MA) — a classic bear market support level — as a point of interest should further downside ensue. The 200-week MA stood at $27,235 as of Aug. 1.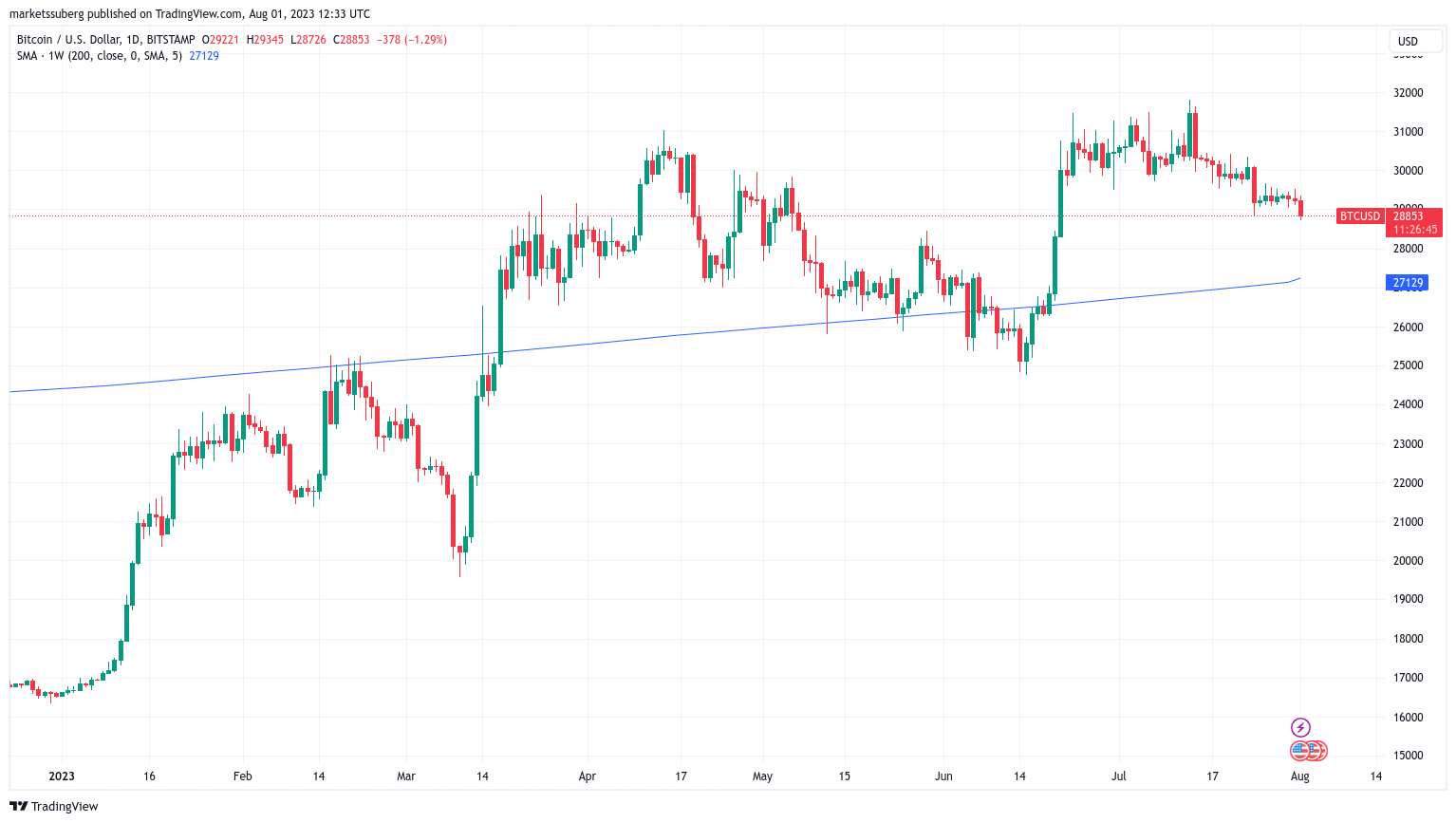 BTC/USD 1-day chart with 200-week MA. Source: TradingView
"During this year, the Daily 200MA/EMA have proven to be a strong support for Bitcoin," he told Twitter followers.
"This area definitely got my interest if price were to visit there at some point. Keep in mind this could take a while and we could re-visit these at a higher price."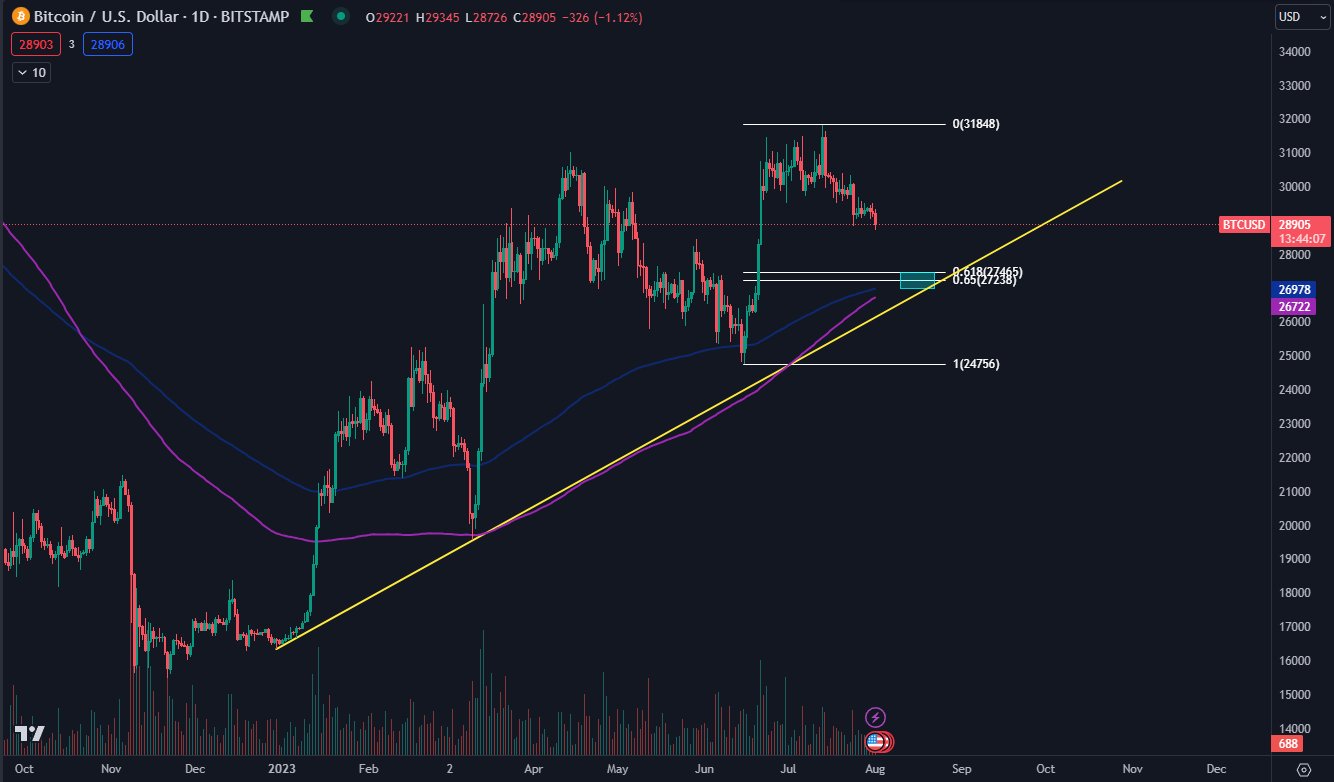 BTC/USD annotated chart. Source: Daan Crypto Trades/Twitter
Magazine: Experts want to give AI human 'souls' so they don't kill us all
This article does not contain investment advice or recommendations. Every investment and trading move involves risk, and readers should conduct their own research when making a decision.