Crypto News: Bitcoin appears to be continuing sideways movements pattern following the recent wave of spot Bitcoin ETF applications. However, the ongoing correction could likely be a deviation before the top cryptocurrency takes a bullish upside wave, analysts feel. BTC should first breach the key resistance area just above $30,000 mark.
Also Read: Dogecoin Whales Scoops 3 Billion DOGE Ahead Of Twitter Rebranding
Crucial Level Of Resistance For Bitcoin
According to crypto analyst CrediBull, the key level of validation for Bitcoin price remains $30,400, above which the doors for further bottoming are shut. If BTC can move above that, the down side is likely completed and could be a hard bottom signal, the analyst explained. In the price range of $29,500 to $30,200, about 1.72 million BTC were transferred, making it a key area to break. Also, at the current level, there haven't been any mass liquidation lately, which means the dip only means it is a deviation. Historically, it was seen that the lack of panic selling is generally a sign of bullishness.
A summarization of the analysis noted,
"$30,400 remains the line in the sand for bull/bear. A drop thus far has been controlled, and no major liquidations were seen. The beginning of the end to this one month long consolidation structure is in sight."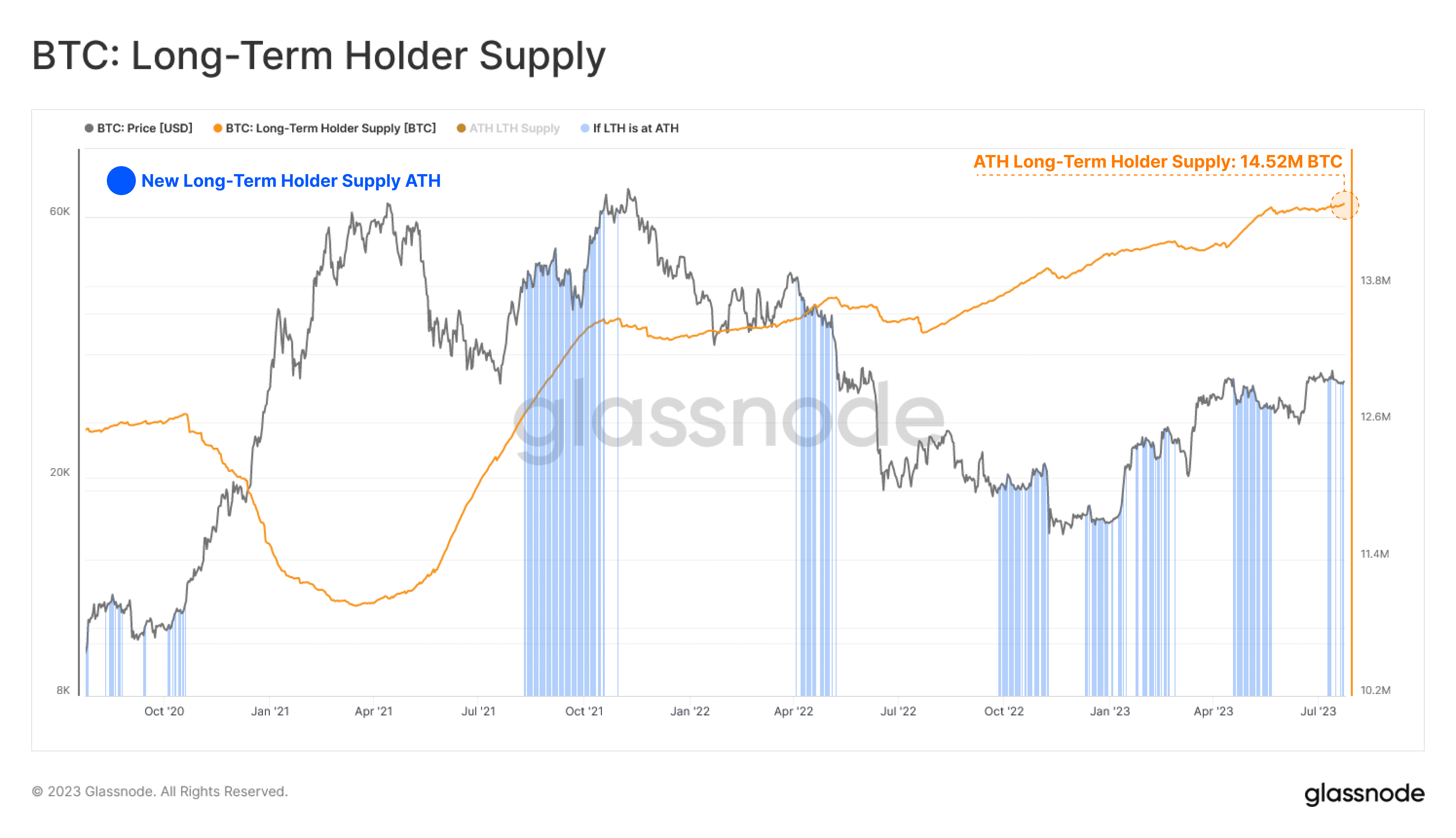 On the other side, the Bitcoin balance of long term holders rose significantly in the last 30 days. The balance of BTC in addresses holding for 155 days or more grew by more than 62,000 Bitcoin. Overall, the long term Bitcoin holder supply reached a new all time high at 14.52 million Bitcoin, according to Glassnode data. This means about three-fourths of the BTC circulating supply is essentially in the hands of long term holders.
Risk Taking Environment
Since the beginning of 2023, the global crypto market cap rose by around 50%, whereas stablecoin market size shrunk by nearly 8%. This could likely indicate the risk taking sentiment prevailing in the crypto market. Interestingly, at one point in 2022 crypto winter, stablecoins were heavily hoarded by investors to avoid headwinds due to negative crypto market news.
Also Read: Early LUNC Developer Says The Protocol is "Rigged by a Single Actor"