Bitcoin, the renowned cryptocurrency, has been facing resistance around the $29,000 mark, but it has recently managed to break above this level.
As the renowned cryptocurrency continues to navigate its way through market turbulence, two significant factors have emerged as potential catalysts for its future trajectory.
First, Blockstream CEO Adam Back's optimistic bet on Bitcoin's price ahead of the 2024 halving event has sparked interest and discussions within the crypto community.
Second, the unwavering confidence displayed by whales through continuous Bitcoin accumulation has added to the market's conviction.
Although there have been positive developments, experts are eagerly anticipating the release of the July Consumer Price Index (CPI) reports from the US and China.
These reports could significantly impact the cryptocurrency market, influencing investor sentiment and trading decisions. It is crucial to exercise caution when making investment choices.
The outcome of these reports has the potential to shape the overall market direction, and it is wise to be prepared for any potential implications.
Currently, the total value of the cryptocurrency market is at $1.16 trillion, showing a 0.21% increase in the last 24 hours.

The fear and greed index, which indicates market sentiment, is currently at a neutral position of 49/100, although it dropped by one point over the weekend.

Investors are eagerly anticipating any new information that may affect the future price of Bitcoin.
However, there is still uncertainty due to the pending approval of a Bitcoin ETF.
If approved, this could attract significant investments from major institutions, thereby giving Bitcoin more credibility in the financial world.
As a result, market participants are eagerly waiting for updates, hoping that positive news will trigger a surge in Bitcoin's price rally.
Blockstream CEO Adam Back's Optimistic Bet on Bitcoin's Price Before Halving 2024
According to Adam Back, CEO of Blockstream and a crypto pioneer, Bitcoin is likely to exceed $100,000 before its halving in 2024.
Back recently engaged in a Twitter bet with another user, wherein he predicted that Bitcoin would attain $100,000 by March 31, 2024.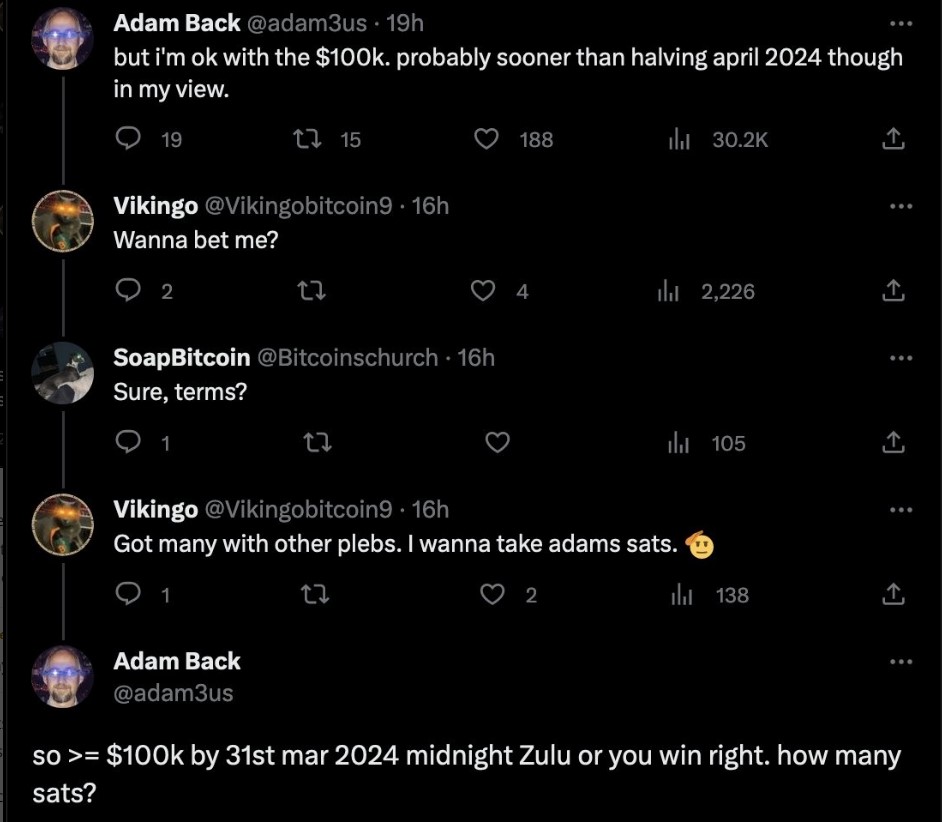 Although some experts anticipate that this may happen later, Back is optimistic that it will reach a new all-time high sooner.
The bet involves 1 million satoshis, which is the smallest unit of Bitcoin and is currently valued at around $290. If Back's prediction turns out to be correct, the amount could soar to over $1,000.
This reflects a growing sentiment about the market among analysts and commentators in anticipation of the halving.
Therefore, the news concerning a bet of only 1 million satoshis, which is currently worth around $290, is unlikely to significantly affect the price of BTC.
Nevertheless, it could contribute to the generally positive outlook on Bitcoin leading up to the halving event, potentially strengthening the optimism of investors and market participants.
Whales' Continuous Bitcoin Accumulation: Boosting Confidence Amidst Market Turbulence
The value of Bitcoin has been fluctuating and currently stands at $29,080. There are no definite levels of support for it yet.
However, a noteworthy trend has emerged among prominent Bitcoin investors, or "whales."
They continue to accumulate more Bitcoin, which shows their unwavering faith in its potential for growth and long-term success.
Market analysts are currently keeping a close eye on the highly anticipated Bitcoin halving event, which is scheduled for 2024.
This event involves a reduction of the reward for mining new Bitcoin blocks by half. Based on past data, previous halvings have resulted in significant price increases, and the upcoming one may do the same.
Whales, who are large Bitcoin holders, appear to be accumulating more Bitcoin in preparation for a potential post-halving bull run. This suggests that they have a positive outlook on Bitcoin's future price, which may boost overall market sentiment.
Bitcoin Price Prediction 
Bitcoin (BTC/USD) has been trading within a narrow range since Monday, with $30,000 and $29,000 acting as resistance and support levels respectively.
Technical indicators such as Relative Strength Index (RSI) and Moving Average Convergence Divergence (MACD) suggest a neutral outlook for Bitcoin in the current situation.
The Bitcoin price graph depicts a continuous downward trend, with the cryptocurrency dropping to $29,100.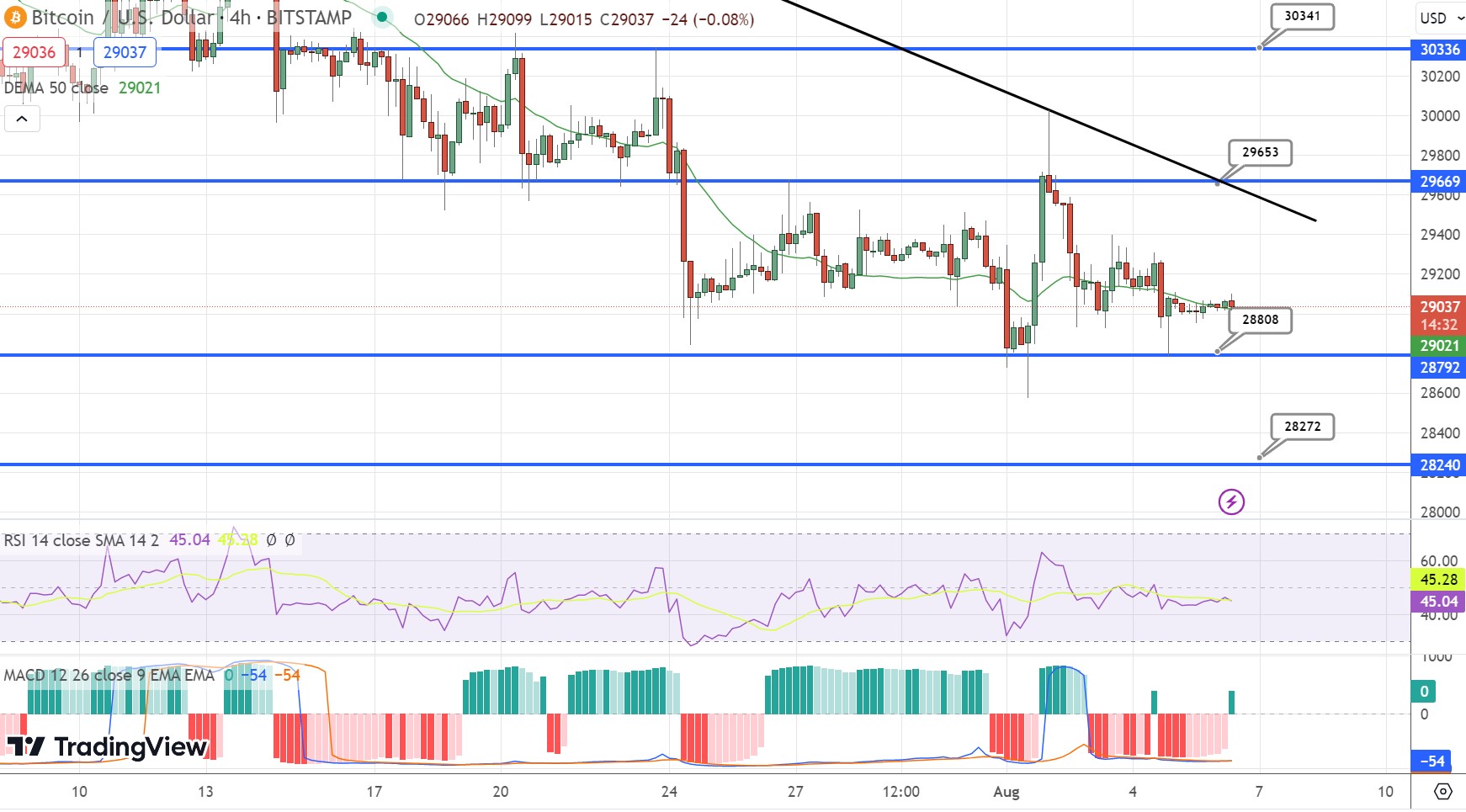 The downward trend in Bitcoin's price may continue, leading to a possible drop toward the $28,700 level.
It's possible that Bitcoin might receive some backing at the $28,700 level while the decline persists.
If the support level at $28,700 is broken, the next likely destination for its value could be the $28,200 level.