As Bitcoin's trading volume reaches $10 billion, the cryptocurrency stands firm at the $30,000 level, sparking discussions about its next move.
Currently trading at around $29,900 with a less than 0.10% increase on Saturday, Bitcoin remains a subject of interest for investors and traders alike.
Alongside this, the SEC's request for additional funding to address risks and fraud in the crypto market adds further intrigue to the future direction of BTC.
With these factors in play, the question on everyone's mind is: where is Bitcoin headed next?
SEC Requests Additional Funding to Address Crypto Market Risks and Fraud
Gary Gensler, the chairman of the Securities and Exchange Commission (SEC), has urged Congress for additional financing to tackle "risks in the crypto markets."
He emphasized the need to address noncompliance and protect investors from the speculative nature of the cryptocurrency markets, which he called the "Wild West" of finance.
By allocating more resources, the SEC aims to enhance the Division's capabilities in addressing vulnerabilities in the cryptocurrency markets, cyber and information security, and the resilience of critical market infrastructure.
This step is seen as crucial in safeguarding American families and investors who have put their hard-earned assets at risk in the highly volatile cryptocurrency space.
However, Gensler has faced criticism for his enforcement-focused approach toward the cryptocurrency industry. He considers most cryptocurrency tokens, except for Bitcoin, as securities.
The recent decision by the Southern District of New York's district court, which ruled that XRP is not a security, has further added to the ongoing debates and challenges in regulating the crypto market.
The SEC expressed disappointment over this decision, citing concerns about its potential impact on individual investors.
Bitcoin Price Prediction 
Bitcoin's technical outlook remains mostly unchanged as it continues to trade sideways. Presently, it hovers slightly above a significant support level of $29,550, which is further reinforced by a triple bottom pattern evident in the four-hour timeframe.
Additionally, the 50-day exponential moving average acts as a resistance level of around $29,995, a psychologically important point situated just below the key $30,000 mark.
With these factors in play, Bitcoin will likely maintain its bearish stance below $30,000.
A potential bearish breakthrough below $29,500 could exert further downward pressure, leading to the next support level at $28,900.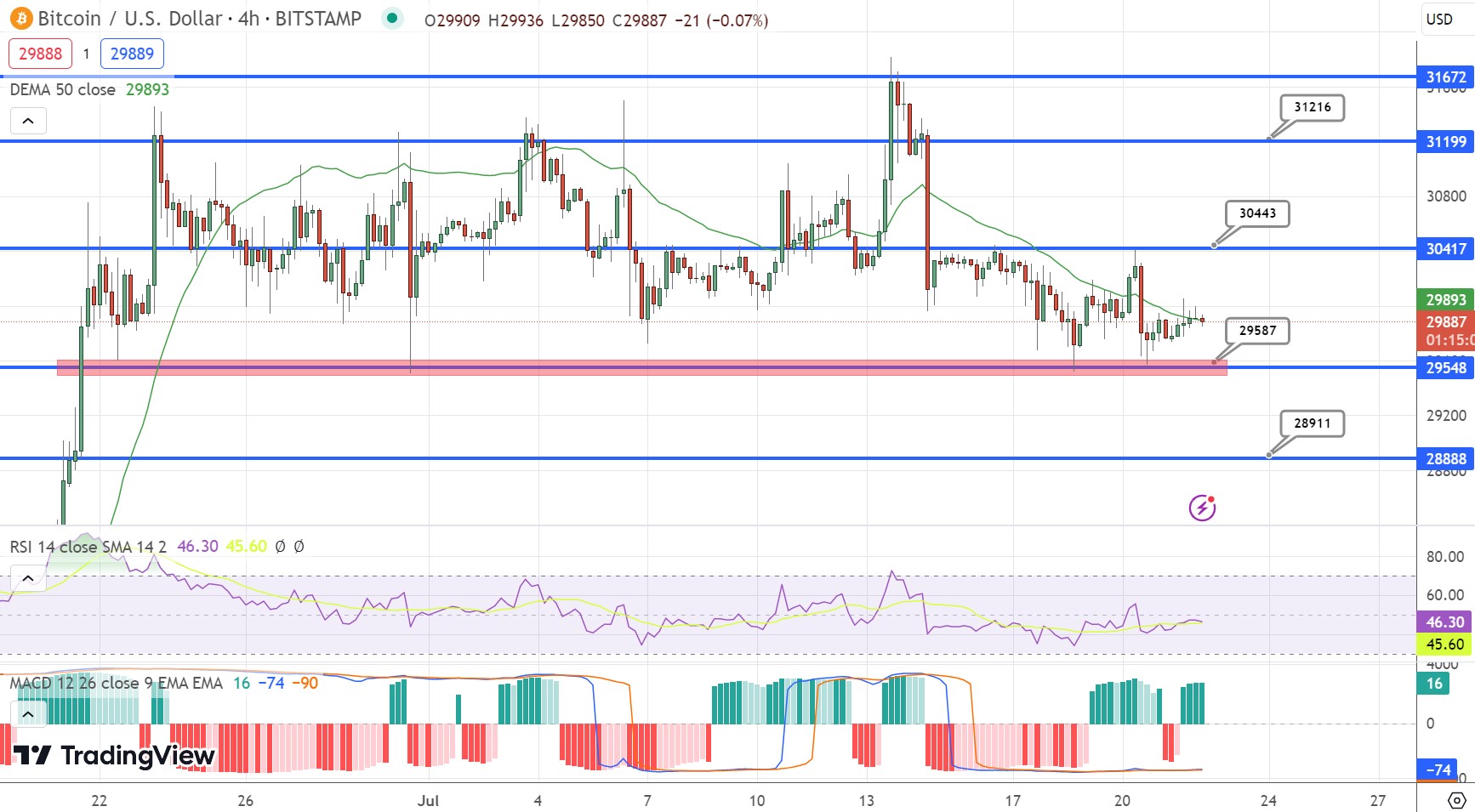 Alternatively, if Bitcoin fails to break below the $29,500 level, it could trigger a bullish rebound, potentially propelling the price towards $30,000 initially, and even surpassing $30,500 in a bullish crossover.
It is crucial to closely monitor the $29,500 level, as it might present a buying opportunity if the price moves above it. However, if the price breaks below this level, it could trigger selling positions.
Moreover, a surge in demand for Bitcoin, leading to a break above $30,450, could drive the price toward the next resistance level of $31,200.