Bitcoin has recently held above $29,000, signaling potential positivity, but hasn't reached $30,000 yet. It's been trading between roughly $28,900 and $29,280, reflecting uncertainty.
Notably, significant Bitcoin holders are selling less, possibly indicating their confidence in its future value increase.
The recent increase in the value of Bitcoin may be connected to PayPal's announcement of their new digital currency, PayPal USD (PYUSD).
This global payment company has entered the world of cryptocurrency by introducing PYUSD, which is based on Ethereum technology and designed to maintain a constant value.
This significant development marks the first time a major financial institution has created its own stable digital currency.
This shift may affect public perception of cryptocurrencies, potentially contributing to the rise in Bitcoin's value.
Bitcoin ETF Developments: Impact on BTC Price and Investor Interest
Cathie Wood, the CEO of ARK Invest, believes that it may take longer than expected for the SEC to approve their Bitcoin ETF.
According to Wood, the SEC could potentially approve multiple Bitcoin ETFs simultaneously, which would help to balance out the demand, which is currently valued at approximately $50 billion.
Other major investment firms like BlackRock and Fidelity are also considering launching Bitcoin ETFs. Wood believes that the competition between these firms will depend on their respective advertising strategies.
Grayscale, a prominent crypto investor, has called for all ETFs to be approved fairly and unbiasedly, which aligns with Wood's belief that all ETFs should be approved together to avoid giving an unfair advantage to any specific ETF.
The news of possible delays and approvals for multiple Bitcoin ETFs has piqued the interest of investors.
With influential figures such as BlackRock and Fidelity getting involved, and companies like Grayscale and Cathie Wood emphasizing the importance of fairness, institutional trust in Bitcoin could increase.
This could lead to greater adoption and a potentially positive impact on the price of Bitcoin.
PayPal's Stablecoin Launch Fuels Speculation of Explosive Growth for Bitcoin and Ethereum
The launch of PayPal's stablecoin has caused a lot of excitement in the crypto community. Many experts predict that Bitcoin could reach $250,000, which would boost investor confidence.
Additionally, Ethereum is expected to grow even faster, perhaps up to 10 times faster, due to the increasing popularity of DeFi trends.
It appears that an increasing number of individuals are becoming interested in cryptocurrencies, which could potentially lead to improved financial services being offered by PayPal.
This development has the potential to revolutionize the financial landscape by bridging the gap between traditional currency and digital currency, leading to accelerated growth in the world of cryptocurrencies during this exciting period.
Bitcoin Price Prediction 
Bitcoin's ascent beyond $29,500 faces challenges, with potential downsides looming if the $28,800 support isn't upheld.
The struggle to breach the $29,200 resistance continues, with a notable bearish trend line forming around $29,100.
Currently below the 100 hourly Simple Moving Average, Bitcoin's immediate resistance lies near $29,100, followed by $29,400 and $29,500 levels.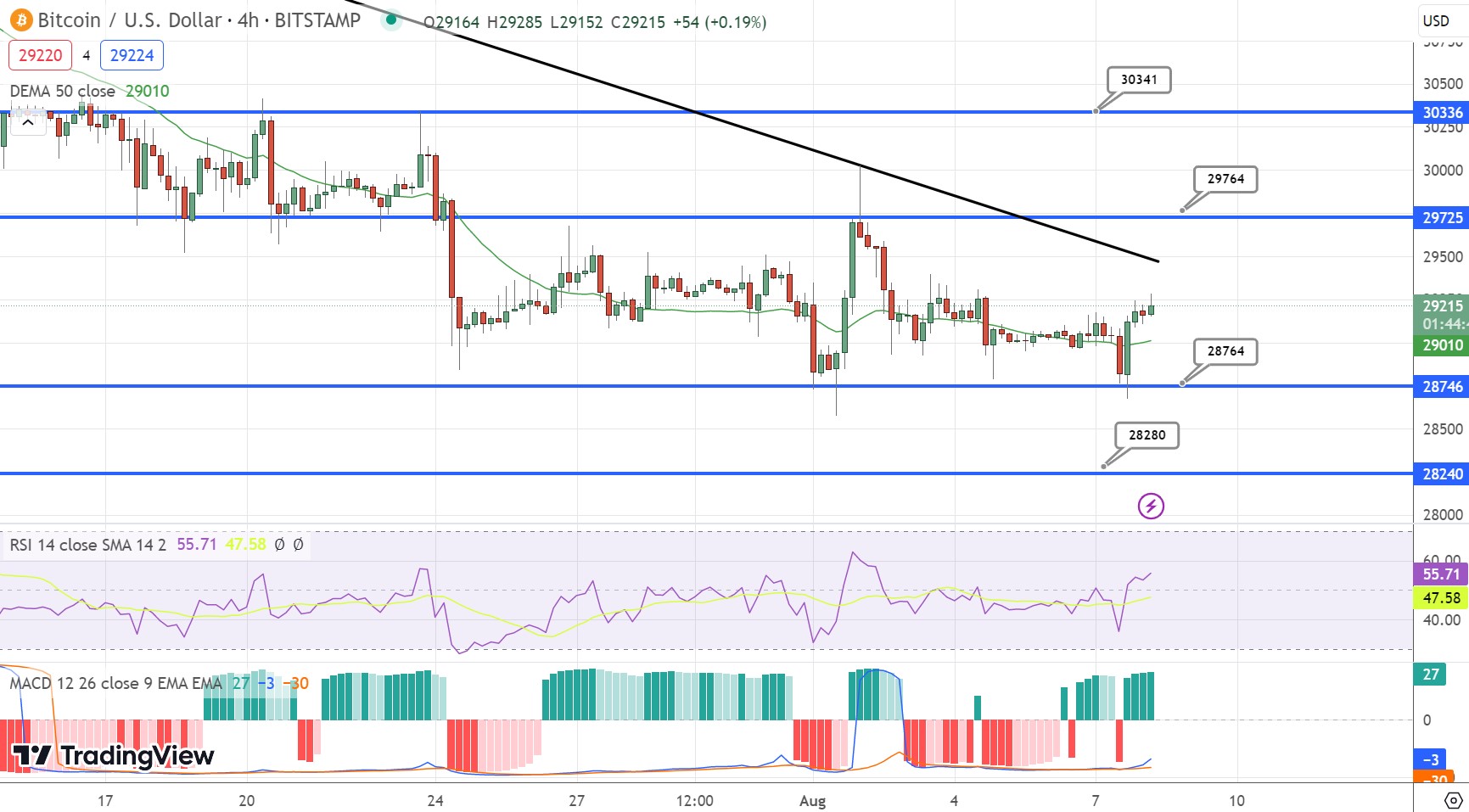 A successful break above $29,750 might signal an upward trend, while failure could prompt declines towards $29,000 and potentially $28,800 or even $28,400.