The cryptocurrency market has witnessed a momentous event as Bitcoin (BTC) price catapulted past the significant $30,000 level, sending shockwaves throughout the industry.
As market participants grapple with this meteoric rise, two notable developments have emerged, shedding light on the evolving landscape of cryptocurrencies.
Firstly, Nasdaq, in collaboration with other industry rivals, has modified BlackRock's application for a Bitcoin exchange-traded fund (ETF).
Secondly, Singapore, a prominent global financial hub, has introduced new cryptocurrency regulations.
As Bitcoin continues to capture attention and reshape the financial landscape, a comprehensive understanding of the forces driving its surge is essential for investors and enthusiasts alike.
Nasdaq Alters BlackRock's Bitcoin ETF Application with Industry Rivals
BlackRock, the asset management firm, has submitted an updated application to the US Securities and Exchange Commission (SEC) for spot bitcoin exchange-traded funds (ETFs).
Following the lead of four other companies, BlackRock modified its application and included Coinbase as a surveillance-sharing agreement (SSA) partner.
This move mirrors the actions of Cboe, which refiled registrations from Fidelity, VanEck, Invesco, and WisdomTree.
Market manipulation and inadequate investor protection have been cited by the SEC as key concerns leading to repeated denials of spot bitcoin ETFs over the years.
However, the reputation of BlackRock, the world's largest asset manager, has sparked speculation that their spot Bitcoin ETF application may have a higher chance of approval.
BlackRock's prominence in the financial industry has led some to believe that their credentials could influence the decision.
BlackRock's filing states that the "Spot BTC SSA is expected to be a bilateral surveillance-sharing agreement between Nasdaq and Coinbase, intended to enhance the exchange's market surveillance program."
The inclusion of Coinbase as a surveillance-sharing agreement (SSA) partner in BlackRock's updated spot bitcoin ETF application has increased BTC prices.
BlackRock's reputation and stature in the industry may positively impact the approval prospects for its spot in Bitcoin ETF.
Singapore Introduces Updated Crypto Rules to Foster Regulatory Compliance
The recent implementation of new regulations in Singapore aimed at enhancing investor safety and maintaining market integrity in the cryptocurrency industry has positively affected BTC prices.
The Monetary Authority of Singapore (MAS) has imposed restrictions on lending and staking operations offered by cryptocurrency service providers to retail clients.
This regulatory action by MAS was prompted by the collapse of the cryptocurrency exchange FTX in November 2017, which resulted in significant financial losses for investors, including Singapore's Temasek Holdings.
The restrictions on cryptocurrency lending and staking operations are designed to safeguard retail consumers from potential risks associated with these activities.
MAS acknowledges that these operations are generally unsuitable for the retail public. However, authorized investors and institutional clients can still access and utilize these services through Digital Payment tokens (DPT) service providers.
Introducing these new regulations in Singapore has positively impacted BTC prices as it creates a safer and more secure environment for cryptocurrency investors.
The strengthened investor protection measures and the proactive approach taken by the Singaporean central bank demonstrate a commitment to promoting stability and trust within the cryptocurrency market.
This reassurance has increased investor confidence, leading to a rise in BTC prices.
Bitcoin Price Prediction 
Taking a look at the technical side of Bitcoin, it is currently encountering resistance around the $31,000 level.
Although this psychological level has been breached before, Bitcoin is currently holding just above it, around the $31,050 level.
The presence of a bullish engulfing candle on the daily timeframe suggests that the likelihood of a bullish trend remains strong.
At the moment, Bitcoin is facing resistance around the $31,350 level, and if it manages to break above this level, the next target could be around $32,500 or even higher at $34,150.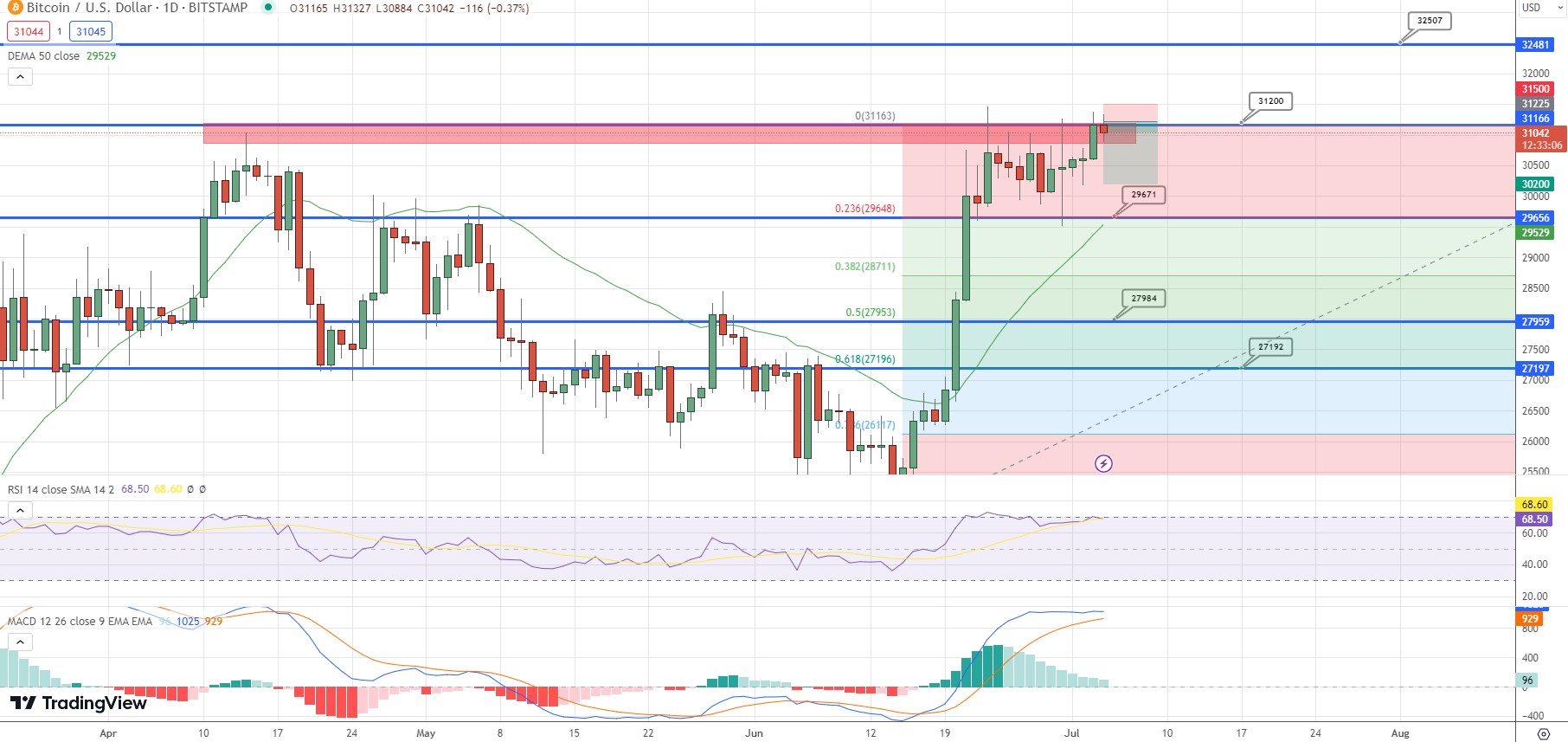 The relative strength index (RSI), moving average convergence divergence (MACD), and other technical indicators indicate a positive sentiment, with the 50-day exponential moving average supporting the upward trend.
On the downside, Bitcoin has immediate support of around $30,500 or possibly around $29,650.
A break below $29,650 may lead to a decline toward $28,650 or even lower to $27,900.
Therefore, keeping an eye on the $31,000 level is crucial as a potential signal for a buying trend.
Top 15 Cryptocurrencies to Watch in 2023
Stay informed about the latest initial coin offering (ICO) projects and alternative cryptocurrencies by regularly exploring our carefully selected collection of the top 15 digital assets to watch in 2023.
This thoughtfully curated list has been compiled by industry experts from Industry Talk and Cryptonews, ensuring that you receive professional recommendations and valuable insights.
Stay ahead of the game and discover the potential of these cryptocurrencies as you navigate the ever-changing world of digital assets.