In the rapidly evolving landscape of cryptocurrency, Bitcoin has experienced a notable 10% decline, prompting a surge of interest and speculation. The current trading price of Bitcoin stands at $26,200, reflecting a marginal decrease.
This price movement coincides with a noteworthy event: a US lawmaker's critical assessment of the SEC's approach to rulemaking, which has reverberated through the market, influencing the sentiment surrounding BTC's price trajectory.
Furthermore, economist Peter Schiff's vocal criticisms of Federal Reserve policies and cautionary remarks about future inflation have complicated the ongoing Bitcoin discussion.
In this update, we analyze these developments and their impact on Bitcoin's outlook, as well as the likelihood of BTC finding support at $26,000.
US Lawmaker's Comments Impact Bitcoin Price Sentiment Amid SEC Rulemaking Critique
US Congressman Frank Lucas (R-OK) 's criticism of SEC Chair Gary Gensler's hurried and ill-analyzed rulemaking approach influences BTC prices.
Lucas warns of potential economic harm as the repercussions of these rules transcend sectors.
As a key House Financial Services Committee member, Lucas expresses concern about the scale and implications of SEC rule changes that impact interconnected financial products and markets.
Gensler's enforcement-focused crypto regulations draw rebuke, with predictions of a continuous regulatory onslaught.
Ongoing scrutiny of SEC and FINRA's questionable approval of Prometheum and the legal battle against Ripple Labs over XRP adds uncertainty, affecting investor sentiment towards BTC.
The market remains sensitive to regulatory actions and legal conflicts, contributing to BTC price fluctuations.
Concerns Raised About Fed Policies and Future Inflation by Economist Peter Schiff
Renowned economist Peter Schiff warns that the Federal Reserve's two-decade policy blunders have caused substantial damage to the economy and will lead to dire outcomes.
Schiff believes the Fed's attempt to combat inflation is doomed to fail, despite market optimism.
He emphasizes that the current economic strength doesn't warrant such confidence, as the prevailing bubble economy, fueled by debt and excessive consumption, defies conventional economic wisdom.
Schiff critiques the perception that economic slowdown curbs inflation and says there will be more inflation.
He underscores that gold's restrained surge is influenced by misplaced market faith in the Fed's success, which he vehemently denies.
These comments from Schiff added concerns about inflation in the market and capped further loss in BTC value.
Bitcoin Price Prediction 
The popular digital currency Bitcoin has rebounded from the support level of $25,500. Currently, the BTC/USD is indicating some bullish correction, which may propel it towards the $27,400 level.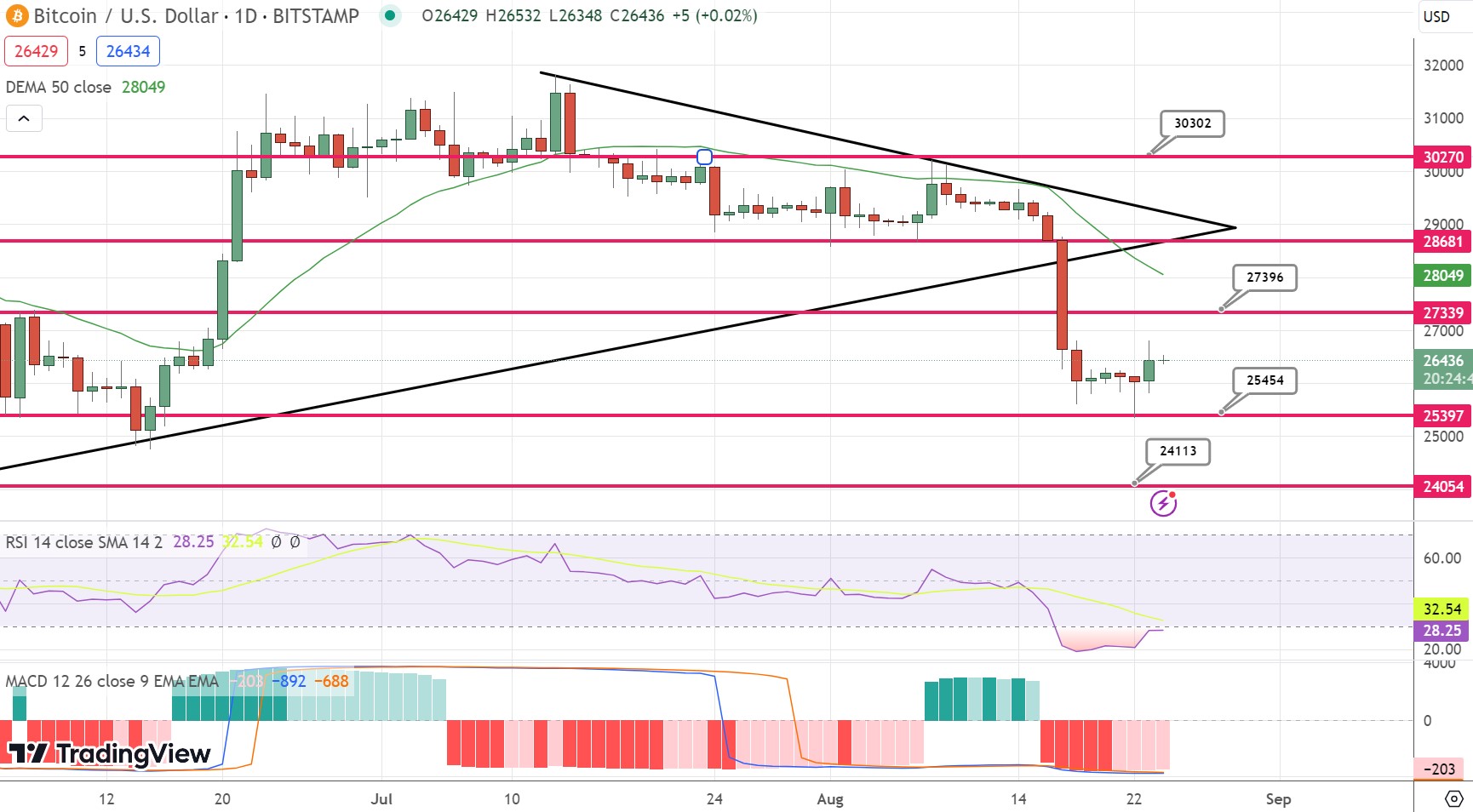 On the positive side, a bullish breakout above $27,400 level could push BTC towards the $28,650 mark. Furthermore, BTC may potentially climb towards $30,300.
On the other hand, a bearish breakout of $25,450 level may cause a decline toward $24,100.