On Wednesday, Bitcoin (BTC/USD) is witnessing a notable surge, registering a 1.60% increase and trading at a promising $29,700.
This uptrend appears to be bolstered by key macroeconomic influences, most notably the looming CPI report and the forthcoming Federal Reserve interest rate decision.
Furthermore, the financial landscape is rife with optimism as hopes for a Bitcoin ETF approval intensify, fueling the cryptocurrency's price rally.
BTCBenefits from Macro Factors Ahead of CPI Report and Fed Interest Rate Decision
The current price of BTC is closely linked to larger economic trends. Looking back at past patterns, we can see that BTC prices tend to rise during times of monetary expansion, like in 2021.
The upcoming Consumer Price Index (CPI) report for July is expected to exceed the Fed's 2% target, reaching around 3.3%. This reinforces concerns about inflation.
There is a feeling of anticipation in the air as we approach the upcoming Federal Open Market Committee (FOMC) interest rate decision on September 20th.
This decision is seen as the Federal Reserve's attempt to address the issue of inflation. To counteract this, investors in Bitcoin (BTC), including those who hold large amounts, are using derivatives to take on long positions.
This could potentially provide support for BTC prices during this time of increased inflation. However, there are still uncertainties, and investors might initially turn to more traditional safe havens if economic conditions worsen.
Bitcoin ETF Approval Optimism Drives Price Surge
The current surge in Bitcoin (BTC) prices is being driven by optimism surrounding the approval of a spot BTC exchange-traded fund (ETF).
Both Ark Invest CEO Cathie Wood and Galaxy Digital CEO Mike Novogratz are optimistic about the approval.
Wood believes that the Securities and Exchange Commission (SEC) may approve multiple ETFs at once, while Novogratz, citing information from sources at BlackRock and Invesco, thinks that it's only a matter of time before one of the eight pending BTC ETF applications is approved by the SEC within the next six months.
The importance of this development lies in BlackRock's participation, as the company's request for a Bitcoin fund spot in June has raised investors' confidence.
These ETFs provide a means for both individual and institutional traders to gain exposure to Bitcoin without having to directly engage in cryptocurrency exchanges.
With increased engagement from major players in the industry and hopeful anticipation, the price of BTC is responding favorably to the possibility of ETF approval.
Bitcoin Price Prediction 
Currently trading around $29,697, Bitcoin exhibits a slight bullish inclination yet faces challenges breaking the $30,200 threshold, as evidenced by the four-hour timeframe.
This resistance is accentuated by technical formations pointing to a strengthening bearish sentiment. Noteworthy indicators, such as the RSI and MACD, are nearing the overbought zone, suggesting a potential weakening of the current bullish drive.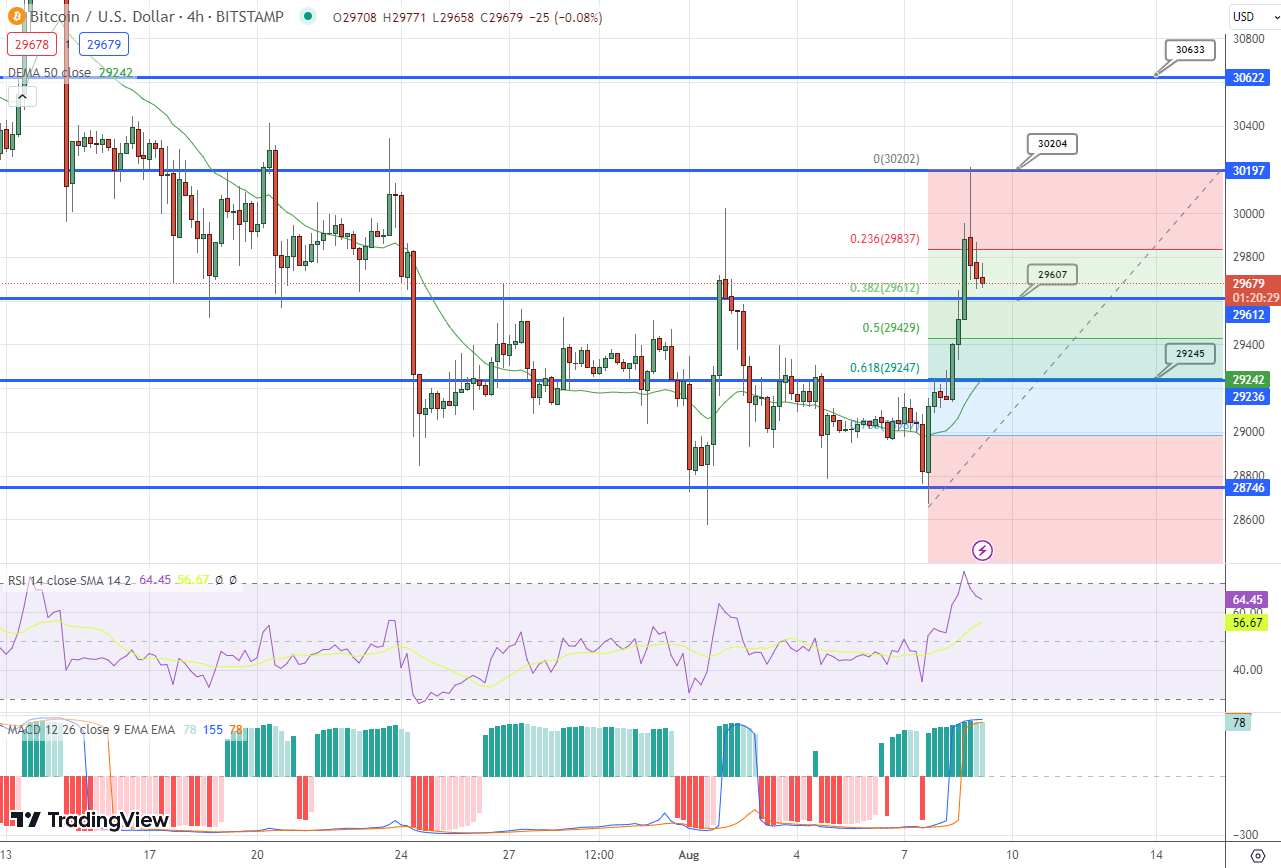 Bitcoin has reached the 23.6% Fibonacci retracement at $29,800 and may target the 38.2% marker at $29,600.
Should it drop below, BTC might descend toward $29,250. Conversely, overcoming the $30,200 resistance might push BTC toward the $30,600 to $31,000 range.
The zones at $29,800 and $30,200 are critical, with potential shifts below them indicating a bearish trajectory for BTC.