The BTC/USD pair is currently experiencing a decline of nearly 0.50%, trading at $29,597 as it braces for the impact of the upcoming US Consumer Price Index (CPI) release.
Amidst this market backdrop, Bitcoin continues to demonstrate its resilience despite challenges such as Moody's rating cut and a banking crisis.
Additionally, Galaxy Digital, buoyed by the surge in Bitcoin's value and its diverse business ventures, has reported impressive earnings. However, Bitcoin finds itself under pressure due to the strength of the US Dollar.
In this Bitcoin price prediction, we delve into the key factors shaping the cryptocurrency's journey in the face of these dynamics.
Bitcoin's Resilience Amid Moody's Rating Cut and Banking Crisis
Moody's downgraded 10 US banks and may downgrade Bank of New York Mellon, US Bancorp, State Street, and Northern Trust.
Earlier this year, the crisis within US banks caused a significant increase in the value of Bitcoin as investors turned to the network as an alternative financial system.
Notably, the volatility in Bitcoin and Ethereum trading substantially decreased in May after the apparent resolution of the banking crisis, reaching multi-year lows.
Bitcoin has proved to be resilient, demonstrating a divergence from the stock market's fluctuations.
The relationship between the stock market and Bitcoin is decoupling, with Bitcoin emerging as a beneficiary of the banking turmoil.
Galaxy Digital's Earnings Soar Amid Bitcoin Surge and Diverse Ventures
Galaxy Digital, led by Michael Novogratz, reported a $46 million net loss for Q2, an improvement from last year's $555 million loss, thanks in part to Bitcoin's 80% surge in H1.
Despite regulatory challenges, Galaxy Digital's diverse business segments remain resilient, with asset management revenue skyrocketing by 619% to reach $33.8 million.
Trading revenues were down 54% to $59.5 million due to lower gains in digital assets and industry-wide trading slowdown.
However, Bitcoin mining revenue rose by 51% to $15.4 million as Galaxy Digital Infrastructure Solutions (GDIS) continued to bolster proprietary mining activities.
This resurgence underscores Galaxy's strength and strategic growth, even as the firm considers offshore operations following U.S. regulatory concerns.
BTC Under Pressure Amid US Dollar Strength
On Thursday, BTC is under pressure due to the upcoming release of the US CPI report during the American session, despite recent positive developments.
The demand for the dollar increased as markets awaited a potentially strong US consumer price index report, causing the dollar to remain stable near five-week highs.
The dollar index and dollar index futures were both resilient during Asian trading, gaining 0.5% this week.
Anticipated data suggests CPI inflation may rise in July, prompting a hawkish approach from the Federal Reserve to align with intended range.
The strength of the US dollar is keeping BTC/USD under pressure today.
Bitcoin Price Prediction
Bitcoin is currently hovering at $29,697, with a slight inclination towards bullish trading.
However, there are obstacles preventing it from breaking through the $30,200 threshold, as shown on the four-hour timeframe.
This resistance is further emphasized by technical patterns indicating a stronger bearish sentiment.
Significant indicators like the RSI and MACD are approaching the overbought area, implying a possible weakening of the current bullish momentum.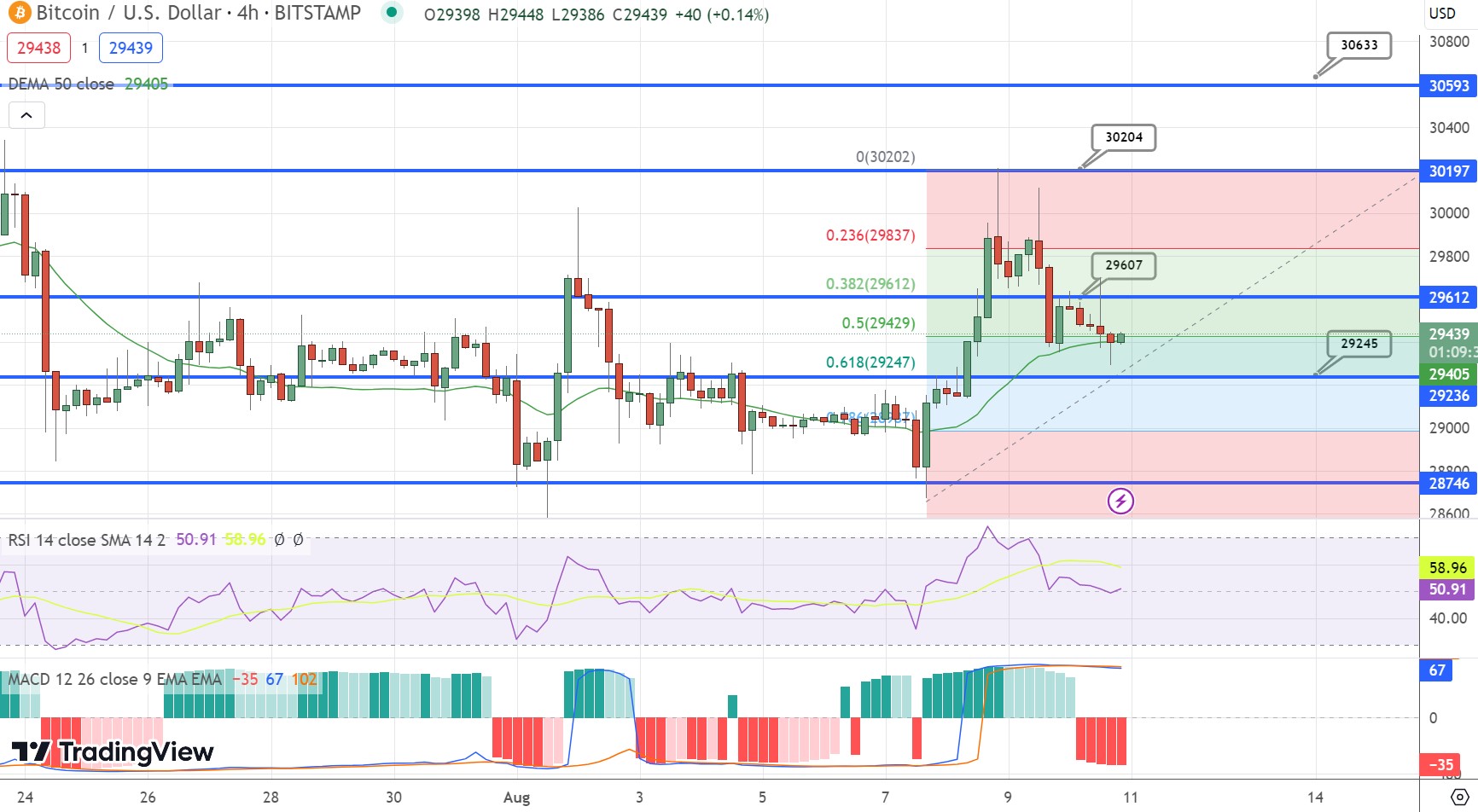 Bitcoin Price Chart – Source: Tradingview
The value of Bitcoin has recently hit the 23.6% Fibonacci retracement level, currently priced at $29,800.
If the trend continues, the next target will be the 38.2% marker, located at $29,600. In the event that Bitcoin falls below this level, it could result in a decline towards $29,250.
However, if Bitcoin manages to surpass the resistance level of $30,200, it could potentially rise towards the range of $30,600 to $31,000.
It's important to keep an eye on the critical zones at $29,800 and $30,200, as any shifts below them could indicate a bearish trajectory for Bitcoin.