With nearly nine million Ordinal inscriptions, the trend that followed, called Bitcoin Stamps, is nearing a milestone of nearly 50,000 stamps recorded on the Bitcoin blockchain. Additionally, similar to the BRC20 token economy, the Bitcoin Stamps concept has provided users with the ability to mint fungible tokens with a standard called SRC20.
Bitcoin Stamps Inch Closer to 50,000; SRC20 Tokens Enter the Picture
While there has been significant attention on Ordinal inscriptions and the BRC20 economy, the Bitcoin Stamps trend is still relatively unknown. As of May 23, 2023, there are currently 46,578 Bitcoin Stamps recorded on the BTC blockchain, approaching the 50,000 milestone. The current number of stamps can be viewed at stampchain.io and rarestamp.xyz.

At the time of writing, there are 46,578 stamps etched into the Bitcoin blockchain.
Popular collections include the Pixel Gods, 3GGS, Eternai Rare, Stamp Punks, Stamp Wizards, Stamp Pepes, Stamp Pepes Not, and Classic Arcade. These collections have been available for a considerable period and are sold through rarestamp.xyz's marketplace. A new concept has recently emerged alongside the Bitcoin Stamps trend, known as SRC20 tokens. Similar to BRC20s, this token concept enables users to mint fungible token supplies using the technology.
"SRC20 is a bleeding edge protocol on Bitcoin Stamps," the website stampchain.io details. "We're working hard to build indexing tools and form partnerships with marketplaces. However, it is early. You're not going to see these tokens in your wallet just yet."
Rarestamp.xyz offers an SRC20 minting page on its web portal, allowing users to issue a token supply, and assign a ticker symbol. Stampchain.io also offers an SRC20 minting tool. According to statistics, there are currently over 300 SRC20 stamps available today. Some of the SRC20 tokens include coins like "kevin," "stamp," "pepe," "bobo," "shib," "punks," and "rare."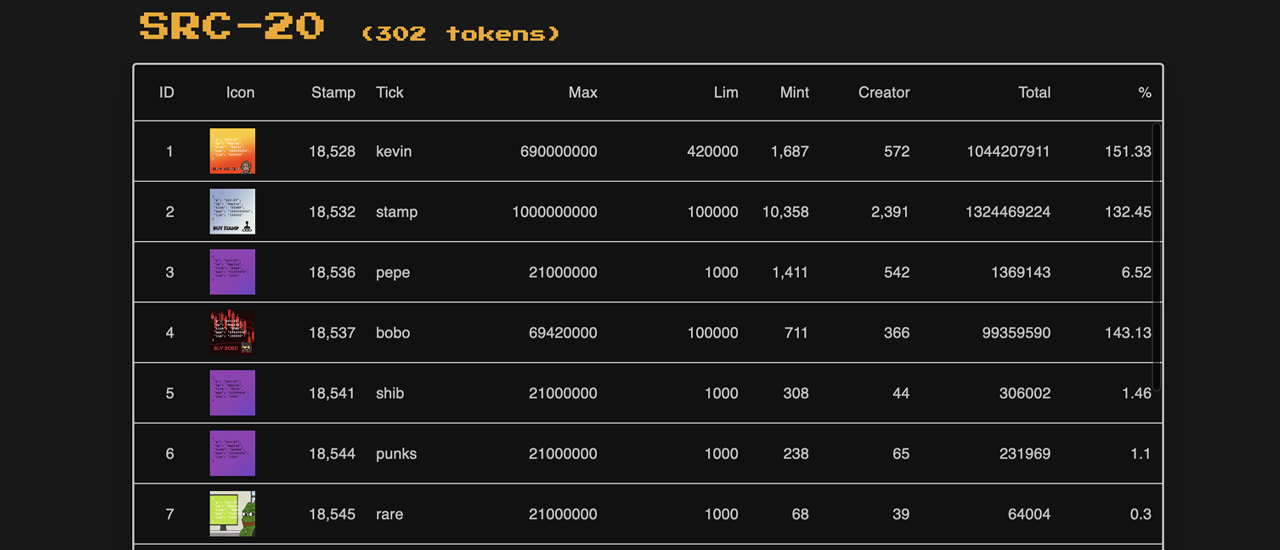 Statistics show 302 listed SRC20 tokens.
At this time, there is no available data on the market valuation of the SRC20 token economy, while the BRC20 economy is valued at $447 million. Furthermore, alongside BRC20s and SRC20s, the token standard DRC20 has been developed on the Dogecoin network. Stampchain.io says that a community member built a basic indexer for the coins but it cannot guarantee the accuracy of the tool.