While Bitcoin continues its sideways movements under $30,000, whales have started accumulating stablecoins again.
Big whale and shark wallets started accumulating Tether, USDC, BUSD, and DAI as Bitcoin plunged below $30,000, according to data by Santiment.
As stablecoins are flowing into these wallets, it has been evaluated that this may be related to the expectation of a possible bottom in BTC.
Stating that a similar move took place before Bitcoin fell to $ 24,700, Santiment showed on the chart that Bitcoin was bought with stablecoins accumulated in this region and the price rose again.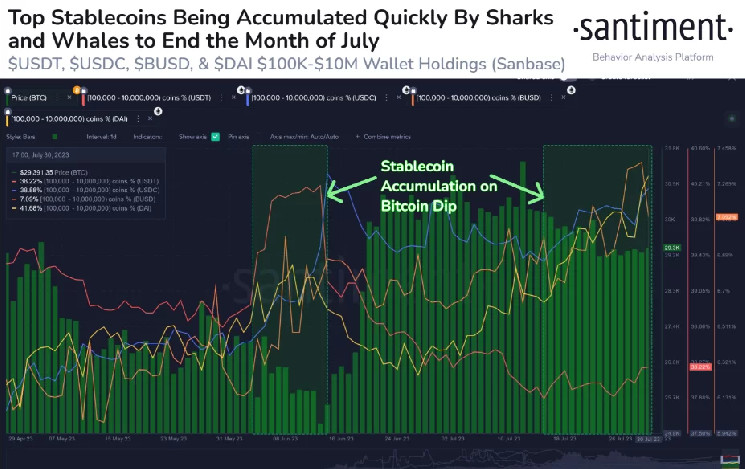 Accordingly, when the whales begin to expect a new bottom and drop in Bitcoin, they increase the stablecoin ratio in their wallets in order to buy the bottom and not miss the opportunity. Some whales do this by selling other assets they hold, while others are preparing with outside money inflows.
Whales accumulating stablecoins is seen as a bullish and bottom-buying prospect in the medium term. The fact that the whales are preparing to buy the bottom does not mean that the price will drop for sure. This indicates that accumulation continues for re-entry at a suitable point.
At this point, it would make sense to keep some cash and manage the risk to buy the bottom during a potential dump.
*Not Investment Advice.