The cryptocurrency analyst and trader, Ali, revealed in an X (formerly Twitter) post earlier today that traders are busy shorting Bitcoin (BTC) on Binance. According to the post, roughly 51% of all accounts on the leading exchange platform with open BTC futures positions are going short.
As #Bitcoin nears $29,000, roughly 51% of all accounts on #Binance with an open $BTC futures position are going short! pic.twitter.com/o7SUMfHEyX

— Ali (@ali_charts) October 18, 2023
Meanwhile, data from CoinMarketCap indicated that the market leader achieved a gain over the past day of trading. At press time, BTC was up 1.85%. This positive daily performance also boosted BTC's weekly performance to +5.99%. Subsequently, the cryptocurrency's price stood at $28,696.32.
BTC's latest increase in price was also enough to earn it the top spot on CoinMarketCap's trending list. This placed it above Big Time (BIGTIME) and Loom Network (LOOM). The leading cryptocurrency's gain was accompanied by a drop in its daily trading volume. CoinMarketCap data indicated that BTC's 24-hour volume was down 40.47%.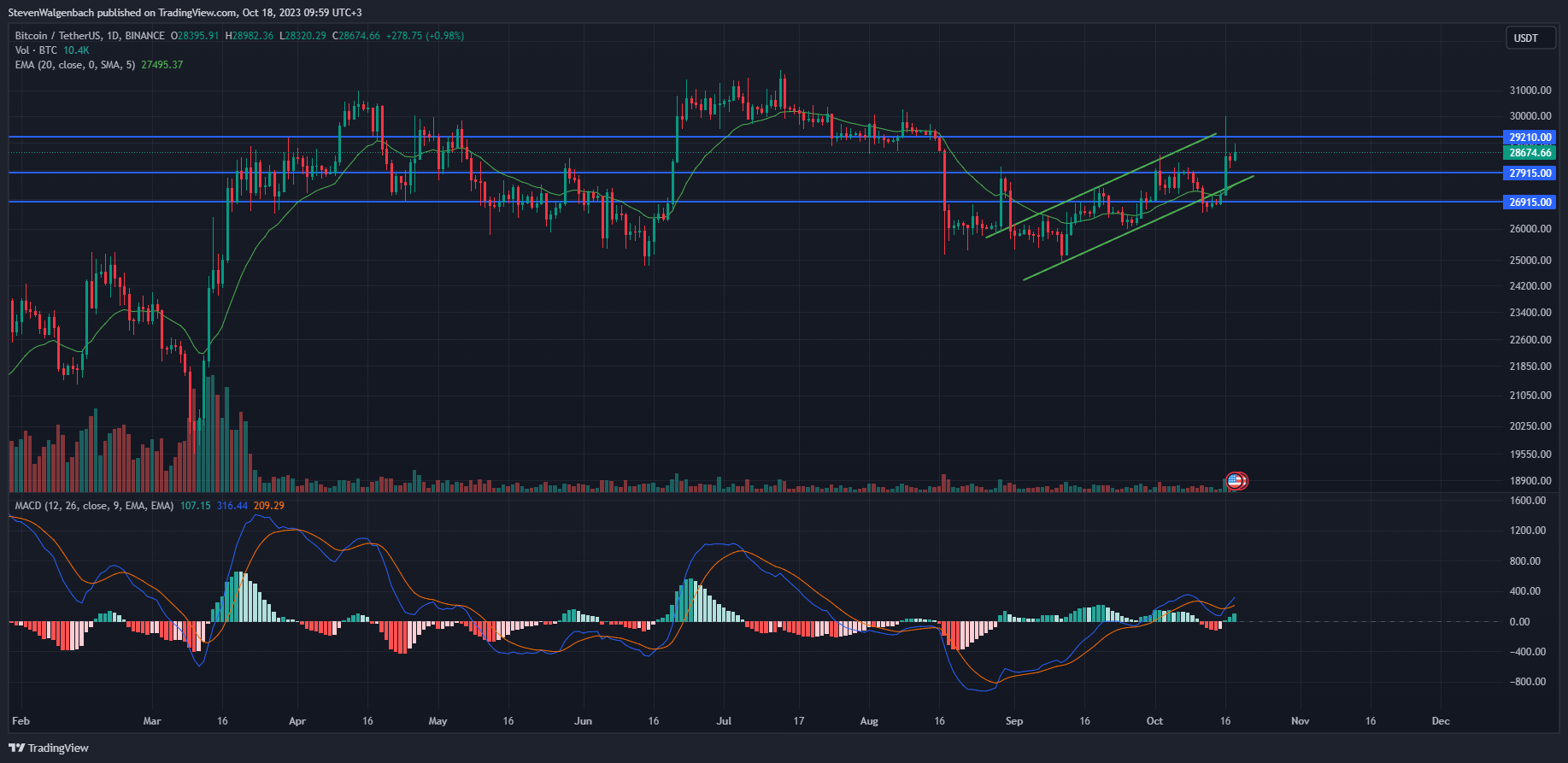 Daily chart BTC/USDT (Source: TradingView)
From a technical standpoint, BTC was still trading in a medium-term positive price channel that had formed on its daily chart over the past few weeks. It did break below this ascending channel during the last 7 days but was able to recover. As a result, BTC's price may attempt a challenge at the next major resistance level at $29,210 in the next few days.
Should the bullish momentum not continue, then BTC's value may drop to the immediate support level at $27,915. If BTC's price breaks below this mark, it will be at risk of retesting the lower channel of the aforementioned price channel. This is a significant level given the fact that it was also confluent with the 20-day EMA line.
As a result, breaking below this price channel again could result in BTC undergoing a strong correction. In this scenario, the cryptocurrency may drop to $26,915.
Traders and investors will want to take note of the fact that the daily MACD line crossed above the daily MACD Signal line over the past 48 hours. This is a noteworthy bullish technical flag that suggests that BTC's positive momentum may continue in the next few days.
Disclaimer: The information presented in this article is for informational and educational purposes only. The article does not constitute financial advice or advice of any kind. Coin Edition is not responsible for any losses incurred as a result of the utilization of content, products, or services mentioned. Readers are advised to exercise caution before taking any action related to the company.