In one of their latest tweets, the market insights platform Kaiko speculated whether the cryptocurrency market might be entering into a period of stagnation or inactivity. Historically, Kaiko's data indicated that Q3 has been a period with the lowest trading volume for past years.
Are #crypto markets entering the summer doldrums?

Historically, Q3 has the lowest trade volume.

Since 2012, cumulative $BTC volume is far lower than any other quarter. pic.twitter.com/GdGjPObfaW

— Kaiko (@KaikoData) July 18, 2023
This is further proven by the fact that Bitcoin's (BTC) cumulative volume has been lower in Q3 than in any other quarter since 2012. Despite this potential drop in trading volume, it is worth noting that BTC's network fundamentals are the strongest they have ever been, according to a tweet posted by the CEO of CryptoQuant, Ki Young Ju.
#Bitcoin's network fundamentals are the strongest ever, with a 661% increase in hash rate in two years.https://t.co/IwcFXPKOjH pic.twitter.com/rczHpmZ9lC

— Ki Young Ju (@ki_young_ju) July 19, 2023
According to the CEO, BTC saw a more than 660% increase in its network hash rate over the past two years. Meanwhile, CoinMarketCap indicated that the leading cryptocurrency saw its price rise slightly by about 0.07% over the past 24 hours of trading.
This left the cryptocurrency trading hands at $29,977.78 at press time. Although BTC's price rose throughout the past day, it still weakened against its biggest competitor, Ethereum (ETH) by about 0.48%.
Furthermore, BTC's 24-hour trading volume fell by more than 3%. This left its volume standing at $13,476,270,837. With regards to market cap, the cryptocurrency king stood at $582,700,758,521.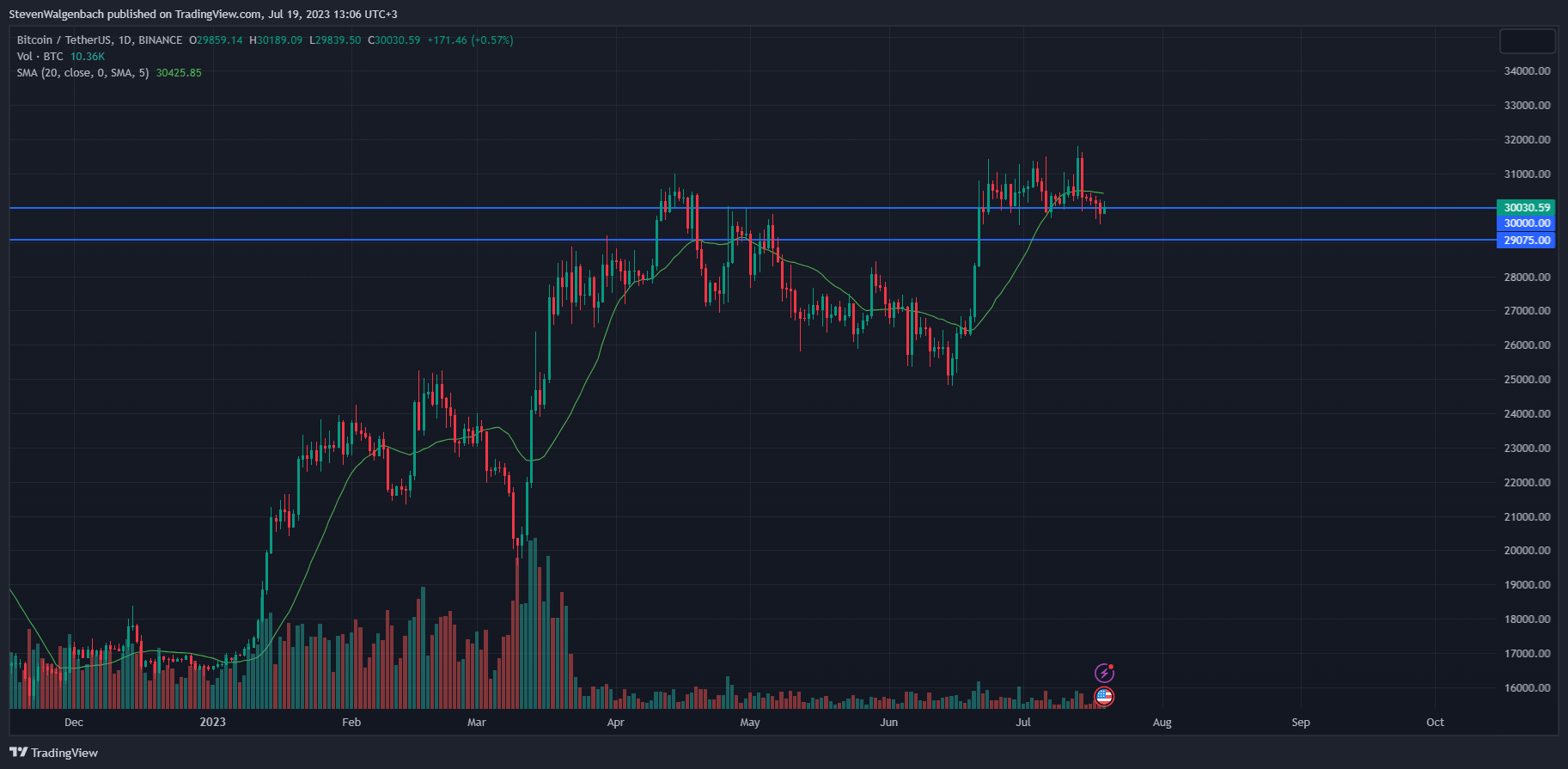 Daily chart for BTC/USDT (Source: TradingView)
From a technical perspective, BTC had dropped below the 20-day SMA line over the past week. This bearish momentum also succeeded in forcing the cryptocurrency's price below the crucial resistance at $30K over the past 24 hours.
Should BTC close today's daily candle below $30K, then it may be at risk of dropping to as low as $29,075 in the upcoming week. Conversely, a daily close today above $30K may result in BTC attempting to reclaim the support of the 20-day SMA at approximately $30,420 in the next few days.
Disclaimer: The views and opinions, as well as all the information shared in this price analysis, are published in good faith. Readers must do their own research and due diligence. Any action taken by the reader is strictly at their own risk. Coin Edition and its affiliates will not be held liable for any direct or indirect damage or loss.