The UK government is evaluating the impact of a potential financial services cold call ban on businesses and private enterprises.
As part of its plans to minimize the risk to consumers in the economy, the UK Treasury has issued a consultation paper to poll citizens on the perceived impact of the policy amid wider plans to regulate the financial service sector against fraudulent activities.
The consultant paper highlights 19 questions as it calls for evidence and a review of existing laws on cold calls. On the surface, a cross-section of analysts backed the move as it seeks to reduce virtual asset-related scams although it may create some challenges for certain firms.
"…However, without a broad ban on cold calling, scammers can simply move from one financial product to another in an attempt to bypass the law or exploit loopholes. The government now intends to ban cold calling for all financial services and products," the paper reads.
The authorities stated several ways potential bad actors could capitalize on the loopholes, specifically highlighting digital assets.
The paper used the example of an investor who invests £250 after receiving a crypto cold call with a promise of rewards. After the first few times, the caller returns the money but in the end, the investor loses £65,000.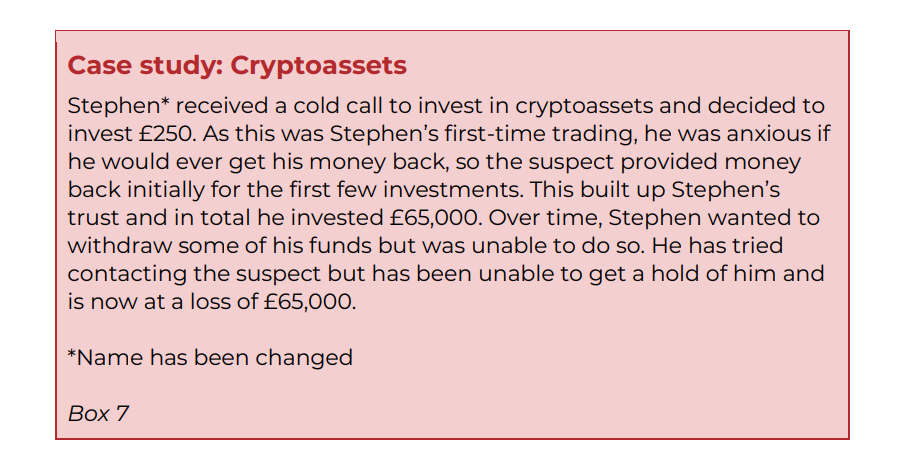 The consultation begins this month and it is billed to end on September 27. Cold calling refers to businesses or people pitching financial services to consumers without any prior requests.
Another step in the UK's anti-theft master plan
In recent months, the UK has disclosed plans to prevent all forms of financial fraud within its jurisdiction. According to the National Crime Agency (NCA), fraud cost the UK £7 billion per year.
"The government will not tolerate this behavior," Andrew Griffith noted as he explained the dangers of cold calls to the economy.
"We want the public to know that any unsolicited call marketing financial products such as a crypto asset or insurance is a scam, and not to fall prey to fraudsters."
The country's lawmakers also joined their global counterparts to warn about the risk of bad actors in the crypto space in the wake of the FTX implosion.
The government further pleaded for 400 new jobs intended to carry out intelligent-based crime prevention tactics. The country also has plans to back blockchain to create a whole new economy with several use cases.
While proper regulations around digital assets remain key in the government's plan, it rejected plans to regulate the industry with the same lens as gambling.
"HM Treasury and the FCA [Financial Conduct Authority] will work with the industry to ensure crypto firms are made fully aware of the standards required for approval at the FSMA gateway. Further communications will be provided in due course to ensure standards for approval are available to crypto firms operating in the UK."