The price of Bitcoin has experienced a notable increase of 0.8%, prompting speculation on whether it is an opportune moment to enter the market. However, it is important to consider various factors that might impact Bitcoin's performance.
Recent news reveals that asset managers plan to refile their spot Bitcoin ETF applications after the Securities and Exchange Commission (SEC) deemed the previous filings inadequate.
Additionally, renowned investor Tim Draper has adjusted the timeframe for his prediction of a $250,000 Bitcoin price.
Moreover, a challenging macroeconomic environment could potentially limit gains for Bitcoin in the third quarter.
These factors should be considered when evaluating the potential for buying Bitcoin at this time.
Asset Managers to Refile Bitcoin ETF Applications Following SEC's Criticism
The exchanges were required by the SEC to specify the details of their "surveillance-sharing agreement" with a specific Bitcoin exchange or provide sufficient information about the arrangement.
Asset managers can revise and resubmit their applications after making the necessary amendments.
Following the SEC's announcement, the price of Bitcoin (BTC) briefly dropped by over 3% and dipped below $30,000.
However, it quickly recovered and is currently trading at around $30,600.
In the revised filing, Cboe intends to establish a "surveillance-sharing agreement" with Coinbase, a prominent cryptocurrency exchange.
According to previous statements from the SEC, a regulated market with substantial trading volume would require a surveillance-sharing agreement between the sponsor of a Bitcoin trust and the market.
The Commodity Futures Trading Commission has long advocated for regulating spot Bitcoin markets, which currently lack government oversight.
As issuers work on resubmitting their applications for Bitcoin ETFs, the price of Bitcoin continues to climb
Tim Draper Adjusts the Timeline for His Forecast of Bitcoin Reaching a Price of $250,000
Tim Draper, a venture entrepreneur, has updated his prediction for the timeline of Bitcoin reaching the price of $250,000.
Draper maintains his belief that the leading cryptocurrency will eventually reach the projected price level, but acknowledges that it may take slightly longer than initially anticipated.
Draper had initially predicted that the price of Bitcoin would reach $250,000 by the end of 2022.
However, on December 31, 2022, he admitted that his forecast was slightly inaccurate, stating that it was "off by a bit."
Nonetheless, Draper remains confident that Bitcoin will still reach the anticipated price level before the next halving event in 2024.
In addition to his price predictions, Draper has expressed concerns about cryptocurrency regulation and has criticized the enforcement approach of the Securities and Exchange Commission (SEC).
In a June 12 interview with Fox Business, he voiced his discontent with the SEC's focus on enforcement, believing it has led to fear among innovators and prompted some to relocate elsewhere. He described the enforcement regulation as absurd.
Despite these concerns, Draper's unwavering belief in Bitcoin's long-term potential has instilled optimism among investors.
This optimism has translated into increased buying activity and upward price movement in the market.
Tough Macroeconomic Conditions May Limit Bitcoin's, Q3 Gains
With major institutions expressing confidence in the future of cryptocurrencies and even in their American regulators, Bitcoin appears to be well-positioned for the upcoming quarter.
However, it is important to exercise caution as the cryptocurrency market operates within the larger macroeconomic environment, which continues to face challenges.
Historically, the third quarter has been the weakest for Bitcoin, with an average increase of just 4.67% since 2014, and only four out of the nine third quarters have seen positive gains.
The second quarter was disappointing for traders until the recent surge in applications for US spot Bitcoin ETFs brought renewed optimism to the cryptocurrency market.
Regulatory pressures significantly impacted market sentiment between the conclusion of the financial crisis in May and the BlackRock Bitcoin ETF registration on June 15, resulting in a sideways movement for Bitcoin.
As macro and industry factors continue to intersect in the next three months, a similar period of calm may ensue.
According to Christopher Ferraro, President and Chief Investment Officer of Galaxy Digital, the Federal Reserve is still cautious about the direction of headline inflation numbers, as they have not fully committed to a long-term freeze or rate reduction, despite temporarily halting interest rate hikes.
Bitcoin Price Prediction
Analyzing the technical analysis, Bitcoin's present situation shows little alteration as it encounters a notable obstacle around the $31,000 mark.
A successful breakthrough at this level has the potential to unlock additional targets at $32,500 and $34,000.
On the flip side, failure to maintain the critical support level of $30,000 could lead to downward pressure, potentially pushing Bitcoin towards the 38.2% Fibonacci retracement level at $28,700 or even the 50% retracement level at $28,000.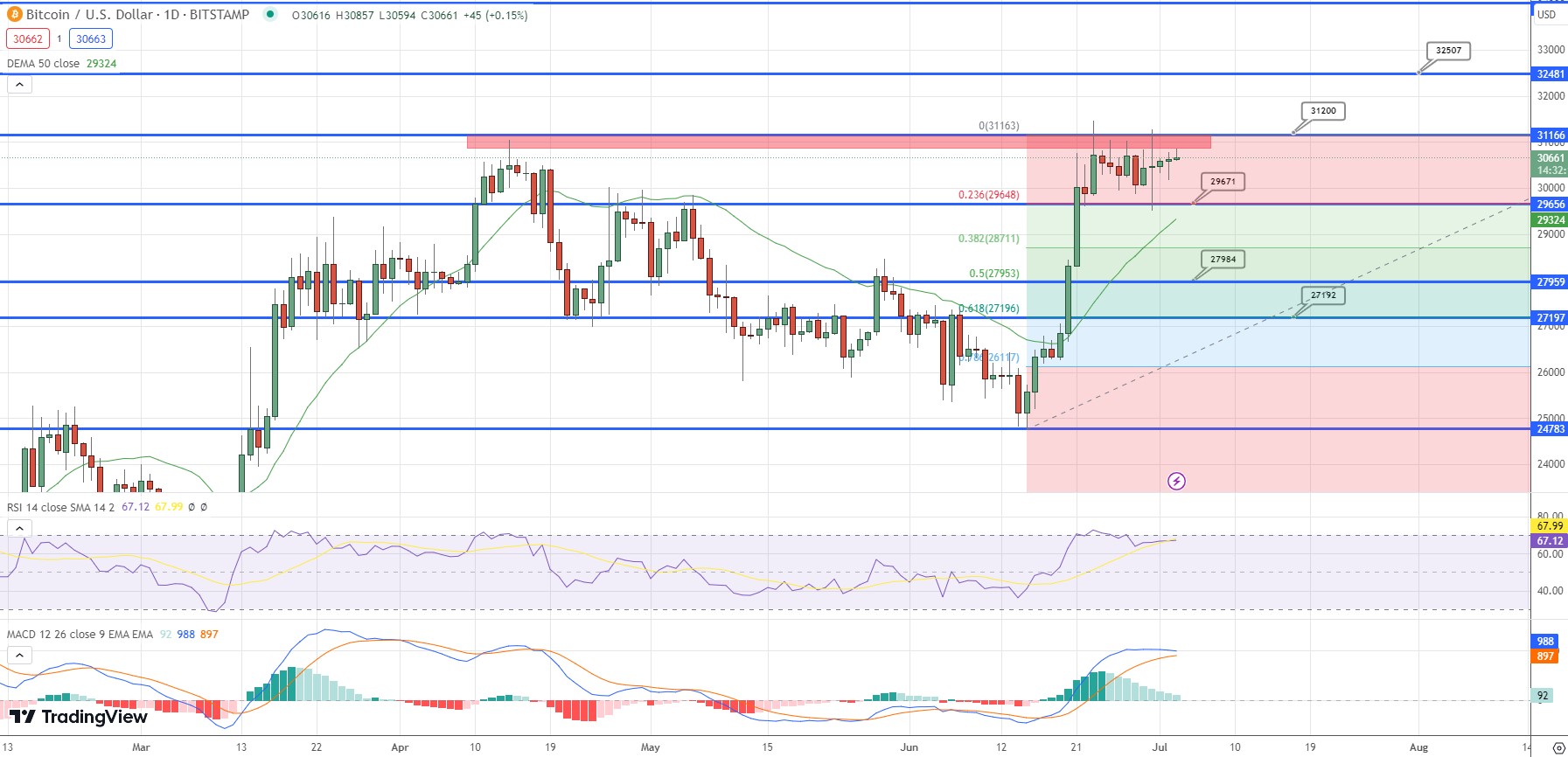 Bitcoin Price Prediction – Source: Tradingview
Furthermore, the 50-day exponential moving average near the $28,000 level may serve as a significant point of resistance if Bitcoin experiences a decline in price.
Top 15 Cryptocurrencies to Watch in 2023
Stay up-to-date with the latest initial coin offering (ICO) projects and alternative cryptocurrencies by regularly exploring our handpicked selection of the top 15 digital assets to watch in 2023.
This meticulously curated list has been assembled by industry experts from Industry Talk and Cryptonews, guaranteeing professional recommendations and valuable insights.
Stay ahead of the curve and uncover the potential of these cryptocurrencies as you navigate the ever-evolving landscape of digital assets.
See the 15 Cryptocurrencies