Bitcoin, the leading cryptocurrency, is currently trading at $30,869, experiencing a 1.10% decrease on Wednesday.
In the midst of this price movement, notable figures such as Mark Cuban and a former SEC official have shared their perspectives on crypto regulation, offering valuable insights into the evolving regulatory landscape and its potential impact on Bitcoin.
This forecast examines the viewpoints expressed by Mark Cuban and the former SEC official, providing key considerations for traders and enthusiasts navigating the dynamic world of cryptocurrency.
Mark Cuban Criticizes US Crypto Regulation and the SEC
Mark Cuban, a participant on the popular show Shark Tank and owner of the NBA's Dallas Mavericks, has voiced criticism against the US Securities and Exchange Commission (SEC) for its decision-making regarding the regulation of the cryptocurrency industry.
Many cryptocurrency advocates have expressed dissatisfaction with the SEC and its chairman, Gary Gensler, accusing them of focusing excessively on enforcement measures in their regulatory approach.
Recently, the SEC initiated enforcement actions against prominent cryptocurrency exchanges such as Coinbase and Binance.
Cuban emphasized the need to acknowledge the reality that cryptocurrency is a technology that will ultimately succeed or fail based on its own merits.
He criticized the SEC for making a costly and erroneous regulatory decision in the realm of cryptocurrencies, acknowledging that the SEC, like any institution, is prone to making mistakes.
While SEC Chairman Gensler has maintained that the existing laws and frameworks are sufficient to govern the crypto industry, many within the crypto sector have been urging the SEC to establish clearer guidelines and regulations for crypto businesses to follow.
Last month, Mark Cuban provided suggestions on how the SEC could regulate the cryptocurrency market, including proposing a dedicated registration process for cryptocurrencies and developing a framework for token registration to accommodate various types of tokens.
Cuban's support for cryptocurrencies has contributed to positive market sentiment and has helped mitigate Bitcoin's losses.
Former SEC Official Labels CBDC as "The Most Absurd Financial Idea Ever"
John Reed Stark, the former chief of Internet enforcement at the Securities and Exchange Commission (SEC), has criticized the development of a central bank digital currency (CBDC) as "the most absurd financial idea in the history of monetary policy."
He raised concerns about its unnecessary risks to global financial systemic stability and the potential for privacy problems, conflicts, and cybersecurity issues.
Stark emphasized that there are already numerous digital currencies that function effectively and are trusted because they are regulated, audited, and overseen by democratic government authorities, as well as operated by regulated, FDIC or SIPC-insured, US-registered financial institutions.
Congressman Alex Mooney (R-WV) introduced the Digital Dollar Pilot Prevention Act in May, which prohibits the Federal Reserve from developing, implementing, or authorizing a program to test the feasibility of issuing a CBDC.
Other states have also expressed opposition to CBDCs. In May, Florida Governor Ron DeSantis signed legislation prohibiting the use of a central bank digital currency in his state.
Stark's preference for cryptocurrencies over CBDCs has also supported the declining prices of BTC on Wednesday.
Bitcoin Price Prediction 
Based on technical analysis, Bitcoin is currently encountering resistance near the $31,000 level. However, it is currently holding just above this level, around $31,050.
The presence of a bullish engulfing candle on the daily timeframe indicates a strong possibility of a bullish trend.
Bitcoin is facing resistance around $31,350, and if it successfully breaks above this level, the next target could be around $32,500 or even higher at $34,150.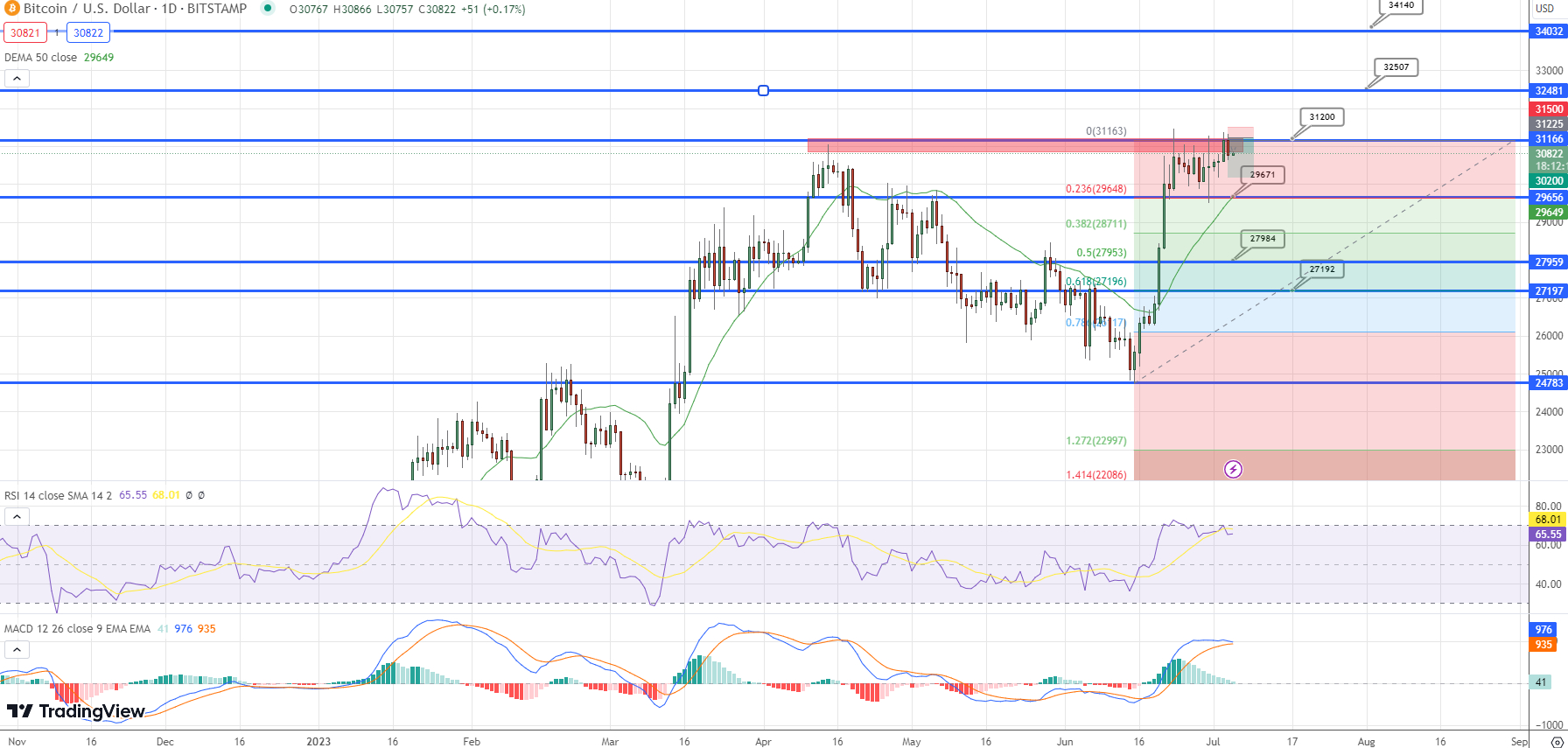 Various technical indicators, including the relative strength index (RSI) and the moving average convergence divergence (MACD), suggest a positive sentiment for Bitcoin.
The 50-day exponential moving average is also acting as support for the upward trend.
On the downside, immediate support can be expected around $30,500 or possibly around $29,650. A break below $29,650 may lead to a decline towards $28,650 or even lower to $27,900.
Therefore, it is crucial to monitor the $31,000 level as it could provide a signal for a buying trend in Bitcoin.