In the dynamic world of cryptocurrencies, the price of Bitcoin stands at $29,270, registering a decline of nearly 1% on Friday.
As the market evolves, various factors come into play, influencing Bitcoin's trajectory. Grayscale's recent call on the SEC to approve all Bitcoin ETFs simultaneously has garnered attention, adding to the market's anticipation.
Moreover, BTC faces challenges following the Bank of Japan's latest decision on Yield Curve Management, impacting its performance.
The release of Q2 GDP figures has further shaped the landscape, with the US dollar strengthening, consequently affecting the price of Bitcoin and erasing gains from the previous FOMC developments.
Amidst these market dynamics, Bitcoin's price prediction remains a subject of interest for traders and investors alike.
Grayscale Urges SEC to Approve All Bitcoin ETFs Simultaneously
Grayscale's ETF was rejected by the Securities and Exchange Commission in the past. Hence, to ensure fairness, Grayscale is requesting the approval of all proposed spot Bitcoin exchange-traded funds (ETFs) simultaneously.
This would prevent any party from having an unfair advantage.
Grayscale has stated that the recent agreements for sharing surveillance information (SSAs) between Coinbase and spot ETF providers are not a new concept and do not meet the SEC's regulations.
The Bitcoin futures market is considerable and is part of the Intermarket Surveillance Group, a worldwide network of exchanges that share market surveillance.
Grayscale recognizes this and believes that it provides ample monitoring and surveillance to prevent fraud or manipulation in the underlying spot BTC market.
However, Grayscale has sued the regulator, claiming that it is behaving arbitrarily by not applying uniform treatment to identical investment vehicles.
Despite Grayscale's request, Bitcoin prices did not show significant changes, indicating that the market had already factored in the ETF drama.
BTC Declines as Bank of Japan Implements New Yield Curve Management Decision
Following reports that the Bank of Japan was contemplating changes to its yield curve management approach, the primary cryptocurrency experienced a brief dip before recovering its losses.
Today, the value of BTC/USD decreased due to the Bank of Japan's potential yield curve control policy change, which initially caused some uncertainty.
However, it quickly bounced back and is currently trading at $29,210. This shows its resilience in the face of expected interest rate hikes by the US and European Central Banks.
Bitcoin Price Drops as US Dollar Climbs on Q2 GDP Figures
Today, the value of BTC/USD is decreasing as the US dollar becomes stronger due to the release of better-than-expected Q2 GDP data.
Despite the Federal Reserve's interest rate increase, Bitcoin's response has been weak while the US dollar has reached its highest point in two weeks.
On-chain indicators showed that the GDP report would have little effect on cryptocurrency as support levels are weak above $28,500.
Experts predict a potential drop in BTC/USD, and attention has now shifted to the July 28 release of the Personal Consumption Expenditures (PCE) Index for further growth opportunities. The market predicts a high probability of a rate pause in September.
Bitcoin Price Prediction 
After analyzing the technical aspects of Bitcoin, it is clear that the cryptocurrency has seen support at the $28,850 level.
This is indicated by a series of candles, including Doji and spinning top, that have closed above this level.
Currently, Bitcoin is hovering just below the $29,500 resistance level. This resistance is reinforced by a downward trend line observed in the four-hour timeframe.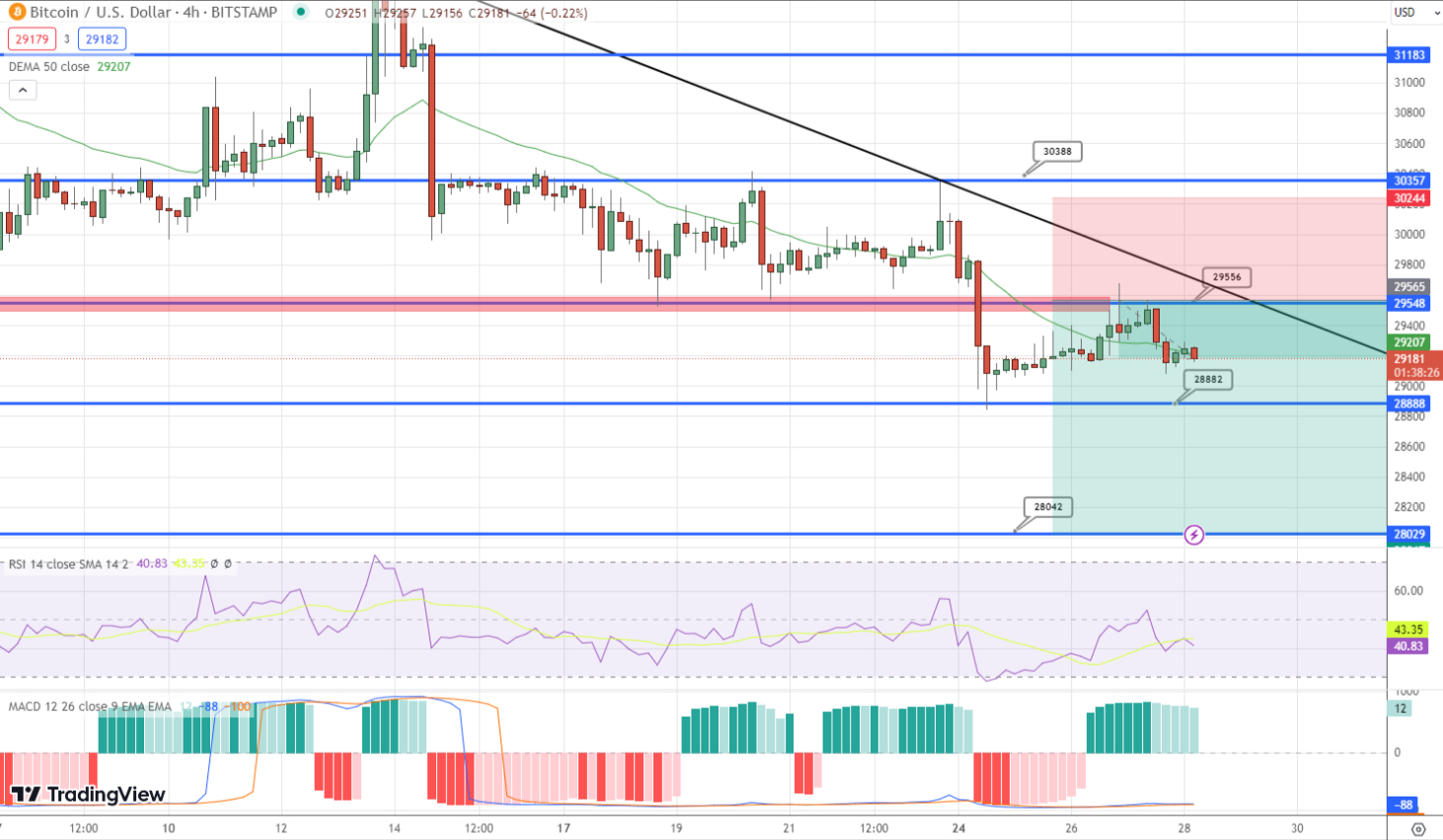 Should BTC succeed in surpassing the $29,500 mark, the subsequent technical obstacle is likely to be around $30,000, which also bears psychological significance.
Moreover, the following resistance possibly lies at $30,350.
Conversely, if BTC drops below $28,850, the next support area is still around $29,000. A dip below this level could result in a decline towards $28,850.