The Bitcoin price rose above $30,000 after several traditional financial firms refiled their BTC Spot ETF applications after the U.S. Securities and Exchange Commission (SEC) described their previous applications as inadequate.
On June 30, the flagship digital asset suddenly dropped to around $29,000 following the SEC's news. However, its value made a significant turnaround after news emerged that these firms began refiling their application.
According to BeInCrypto data, this news has pushed Bitcoin's price to $30,444 at the time of writing.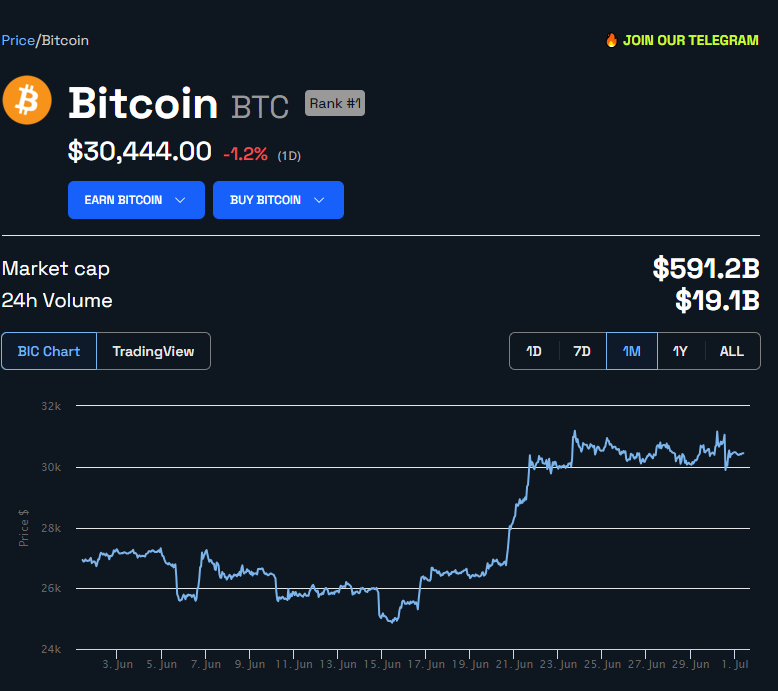 Bitcoin Price (Source: BeInCrypto)
SEC Says ETF Filings Inadequate
The SEC had informed stock exchanges Nasdaq and Cboe that their ETF filings were not "sufficiently clear or comprehensive."
The Commission reportedly attributed its decision to these firms' failure to name the spot Bitcoin exchange they would enter into a "surveillance-sharing agreement" with.
The financial regulator added that there was inadequate information on the details of the surveillance agreements, suggesting that asset managers can update their applications and refile.
While the SEC has yet to confirm the news, some stakeholders have criticized the regulator's move. Speaking on the development, the House Committee on Financial Services Chairman Patrick McHenry said a spot Bitcoin ETF would provide a regulated product for investors, and the SEC would only oppose it if it aims to kill crypto.
The lawmaker added that the SEC chief Gary Gensler would have "a lot of explaining to do" if the reports are accurate.
Fidelity, Others Refile Applications
Meanwhile, several impacted traditional financial institutions, such as Fidelity, VanEck, Invesco/Galaxy, and Ark Invest, have refiled their application, naming Coinbase as their partner spot exchange.
Bloomberg's Senior ETF analyst Eric Balchunas pointed out that while Ark Invest ticked the box for amendment, others ticked initial filing in their application. Balchunas said:
"ARK actually added an amendment to their 19b-4 whereas the rest re-filed and checked the box for initial filing. Poss that re-starts clock for them at 6/30 while ARK gets to hang on to their April filing date. Not sure at all but wanted to point out."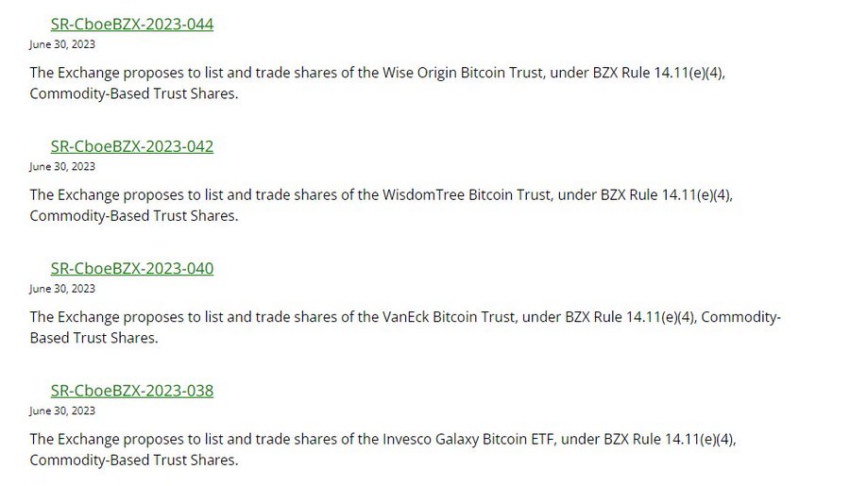 Legacy Institutions Refile ETF Applications (Source: Eric Balchunas)
The analyst noted that BlackRock, the largest asset management firm in the world, was yet to refile its application. Additionally, there is no information on whether it plans to do this or if its earlier filing was adequate.
In BlackRock's filing, the firm had named Coinbase as the custodian for the trust's BTC holdings.