Bitcoin (BTC) may be weeks from a "sharo rally" toward $34,000, trading platform QCP Capital believes.
In its latest market update released on Aug. 15, analysts said that the coming weeks include a key decision point for BTC price action.
BTC price due September "termination point"
With Bitcoin still rangebound after months of indecisive behavior, market observers are keen to predict the return of some sort of market trend.
For QCP Capital, September is the key month in the calendar, thanks to BTC/USD completing a rising wedge construction which began during the end of the 2022 bear market.
"On the charts, the wedge pattern that BTC has been trading in since its 15k lows reaches its first termination point at the start of Sep," part of the update explained.
QCP noted that the specific area of interest was $29,300 — exactly the current focal point for the Bitcoin spot price.
"Will there be a sharp rally that takes us to the 34k resistance — like the prior three times which kissed the support trendline this year?" it continued about the rising wedge.
"We think it could still be another quiet few weeks before we find out. We are on the lookout to buy back our end-Sep short calls and go long end-Dec vol in due time."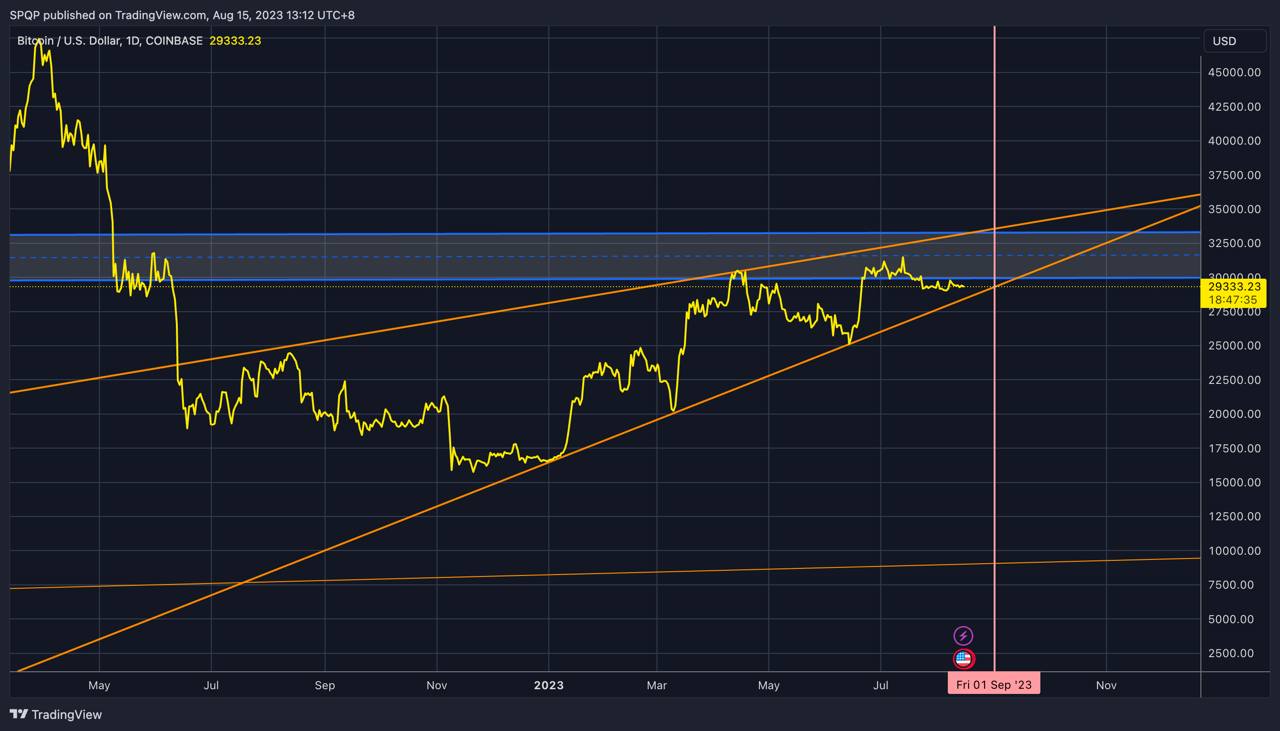 BTC/USD annotated chart. Source: QCP Capital
QCP's perspective chimes with various more optimistic takes on BTC price strength for the short term, including one which gives October as the deadline for the return of the 2023 Bitcoin bull market.
As Cointelegraph reported, however, market expectations are fragmented on the topic, with others warning that new lows may yet enter before a broad recovery ensues.
No macro BTC price catalyst in sight
Addressing macroeconomic trends, QCP meanwhile argued that significant change was still to appear, echoing the status quo in crypto.
Related: BTC price won't hit $100K before 2024 halving — Bitcoin investment exec
"The last time trading was this compressed, it was during the crypto winter of 2018 and 2019, and it took a change in the macro environment to revive the market again," it wrote.
Bitcoin's volatility is challenging historic lows, as shown by Bitcoin Historical Volatility Index (BVOL) data from TradingView.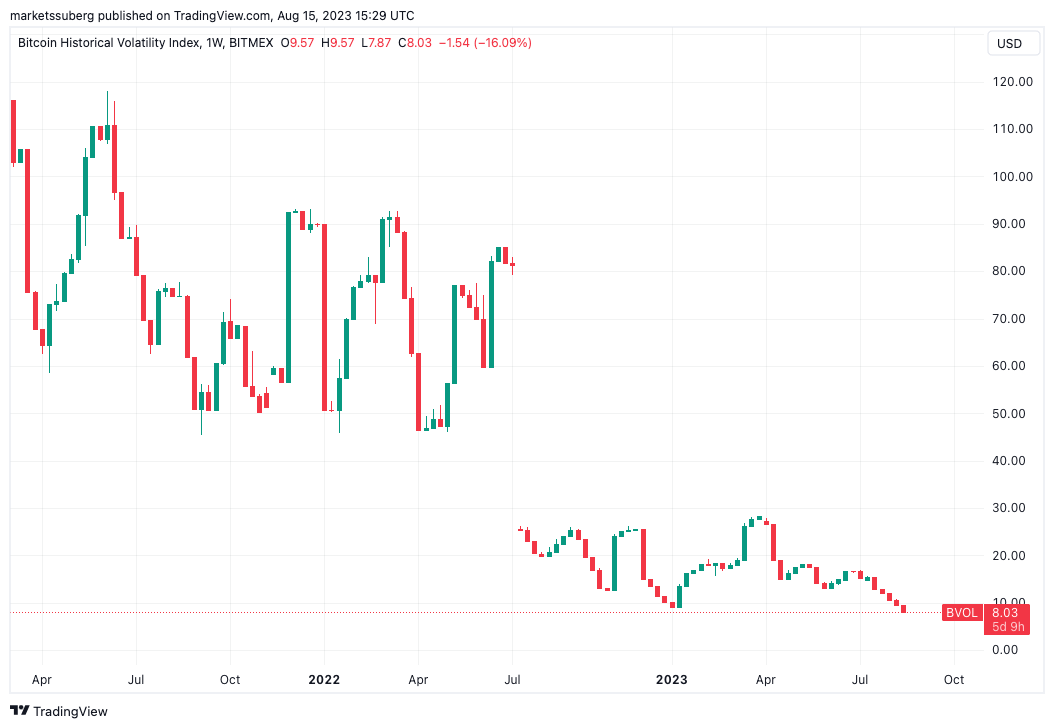 Bitcoin Historical Volatility Index (BVOL) chart. Source: TradingView
"While that game changing shift in the macro environment is not yet in sight, there are a few short term catalysts coming up on the crypto calendar late next month, including Mt Gox, GBTC, a possible SEC verdict on Blackrock/Fidelity's applications, and some potential centralized crypto exchange and stablecoin news," QCP continued.
Among other things, analysts referenced the September deadline for commentary on the initial Bitcoin spot price exchange-traded fund (ETF) applications — widely considered to be a turning point for the industry.
Europe's first Bitcoin spot ETF began trading on Aug. 15, custodied by Fidelity Investments.
Magazine: Deposit risk: What do crypto exchanges really do with your money?
This article does not contain investment advice or recommendations. Every investment and trading move involves risk, and readers should conduct their own research when making a decision.