Bitcoin's market performance in the first half of 2023, surging by 80% against the U.S. dollar, has enthusiasts eagerly speculating about its year-end price. Techopedia and Changelly have released price prediction reports with varying estimates, suggesting that bitcoin's value could range from $25,175 to $40,836 per unit by the close of the year.
Techopedia vs. Changelly: Clash of Bitcoin Price Predictions for 2023's Year End
Throughout the years, countless market observers have taken on the challenge of forecasting the price of bitcoin (BTC), yielding a mix of wildly inaccurate predictions and astutely accurate projections.
In late January 2023, a panel consisting of 56 experts in the crypto and fintech fields, as conducted by product comparison website finder.com, confidently stated that BTC would reach its peak at $29,095 by the end of 2023.
It's worth noting that BTC has already surpassed this anticipated peak, surging beyond the $31K threshold as of July 6. In a recent survey conducted by Bitcoin.com News, six distinct artificial intelligence (AI)-powered chatbots were asked to share their predictions for bitcoin's year-end price.
The responses varied significantly, with price projections spanning from $30K to $50K per unit. Building upon this price exploration, we now turn our attention to two comprehensive bitcoin (BTC) price prediction reports provided by Techopedia and Changelly.
These reports offer a diverse range of forecasts, each with its own unique perspective. Notably, Techopedia's analysis takes a more cautious stance, suggesting that BTC could reach a "potential high" of $25,175 by the end of December.
Amidst the summer trading season, Techopedia sheds light on the current state of bitcoin trading, highlighting a notable decline in trade volume and a subsequent stall in momentum.

Techopedia's bitcoin price predictions for the rest of 2023.
In the analysis, author Michael Graw delves into the worst-case scenario for Bitcoin's price, emphasizing the possibility of BTC testing its support level at $18,650 or even revisiting its 2022 low of $15,760.
Looking ahead to the year 2024, Techopedia's examination paints a less optimistic picture compared to the bullish forecasts circulating today. Notably, Techopedia's analysis suggests a potential 2024 low of $15,500 per BTC and a potential high of $31,000 per coin.
When it comes to price predictions, Changelly's analysis takes a more upbeat stance compared to Techopedia's examination, offering three distinct price ranges for the end of 2023.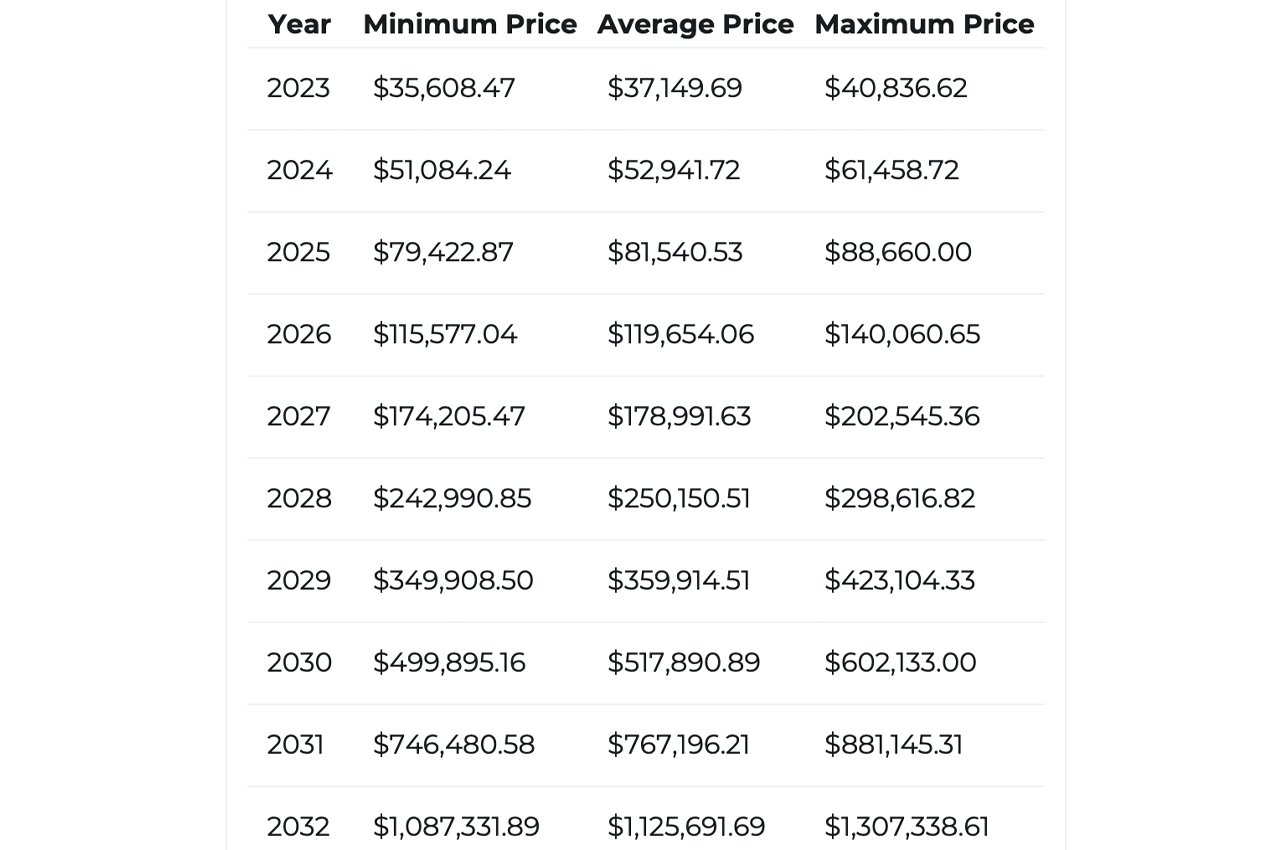 Changelly's bitcoin price predictions from 2023 to 2032.
The lower end of the spectrum stands at $35,608.47, while the average price hovers around $37,149.69. However, the most exciting estimate points to a potential year-end price of $40,836.62, reflecting a sense of bullish optimism.
In fact, according to Changelly's projections, BTC could soar to $36,438 per unit by July 31, 2023, marking an impressive surge of over 20% above the current price. Turning our attention to the year 2024, Changelly's predictions continue to climb higher.
The analysis anticipates a minimum price of $51,084.24 and an average price of $52,941.72. Yet, it's worth noting that Changelly's 2024 forecast falls short of surpassing the peak price reached in 2021, with a maximum quoted price of $61,458.72 per BTC.
Looking further ahead to the future, Changelly's 2025 prediction surpasses the 2021 all-time high. The projection spans a range reaching from $79,422.87 to $88,660.00. However, it's not until 2026 that bitcoin breaches the six-digit mark, according to the analysis.
On the other hand, Techopedia's estimates for 2025 reveal a potential low of $21,500, contrasting with a more optimistic high of $53,000 for that year. Zooming further into the horizon, Techopedia's 2030 prediction presents a wide spectrum, ranging from $30,000 to $100,000 per BTC.