The popular crypto trader and analyst, Michael van de Poppe, shared in a tweet posted yesterday that he could see Ethereum's (ETH) price climbing to $2k soon. According to the post, he expects ETH's price to continue consolidating over the next few days before breaking out toward the upside.
Furthermore, van de Poppe also highlighted the importance of ETH's price remaining above $1,825. If the altcoin can stay above this level, it is possible for ETH to continue upwards. He then added that ETH will likely target $1,880 next.
Van de Poppe concluded the post by stating that if ETH could break above $1,880, he believes the price of the altcoin could see $2,000 "relatively fast". At press time, ETH's price was trading just below $1,825 at $1,822.75 after it experienced a 1.72% price decrease over the past 24 hours.
As a result, ETH was trading close to its daily low of $1,815.90. Despite the altcoin's price drop, it was still able to strengthen against its biggest competitor, Bitcoin (BTC), by around 0.27%. In addition to this, the crypto's drop in price was also not enough to drag its weekly performance into the red as it was up 0.07% over the past seven days of trading.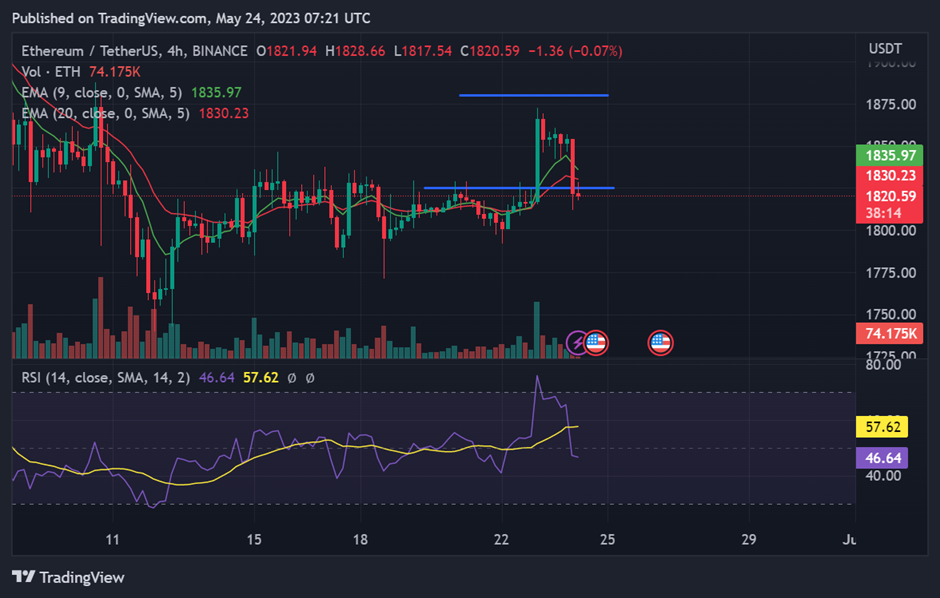 4-hour chart for ETH/USDT (Source: TradingView)
The RSI line on ETH's 4-hour chart suggested that the leading altcoin's price would continue to fall in the next 24 hours, as the line sloped negatively towards oversold territory. In addition to this, the 9 EMA line on the 4-hour chart was looking to cross bearishly below the 20 EMA line.
Disclaimer: The views and opinions, as well as all the information shared in this price analysis, are published in good faith. Readers must do their own research and due diligence. Any action taken by the reader is strictly at their own risk. Coin Edition and its affiliates will not be held liable for any direct or indirect damage or loss.