Ethereum (ETH) price dropped to $1,620 on September 2. On-chain analysis provides insights into possible Ethereum price action in the coming days.
On September 2, Ethereum's (ETH) price declined to $1,620. Both on-chain and derivates trading data signal that Ethereum could experience more bearish headwinds in the coming days.
Nearly $450 Million Has Been Wiped off Ethereum Futures Markets
Derivatives market data shows that Bitcoin Open Interest slid to $4.86 billion on September 4. Notably, the last time it dropped to this level was during the market panic triggered by the USDC-depeg and Silicon Valley Bank failure back in March 2023.
This recent downtrend means that nearly $450 million has been wiped off Ethereum Futures markets within the first four days of September.

Ethereum (ETH) Price Faces Bearish Headwinds | Open Interest, Sept 2023. Source: Coinglass
Open Interest summarizes the total value of an asset's active or unsettled derivative contracts. A downtrend in Open interest is a vital bearish signal, indicating that investors are moving capital away from ETH futures markets.
This reduced interest and participation in the market could also lead to decreased demand in the ETH spot market.
Crypto investing, simplified. Get ETH price predictions here.
Long-term Investors Have Entered Panic Mode
The bearish headwinds from the derivatives traders have also spread toward the ETH spot markets. On-chain data shows that many ETH long-term investors have been selling over the past week.
In evidence of this, ETH Mean Coin Age, which stood at 47.82 on August 28, has now slipped to 45.54 as of September 4. This 5% decline in Mean Coin Age signals that major selling frenzy among ETH holders.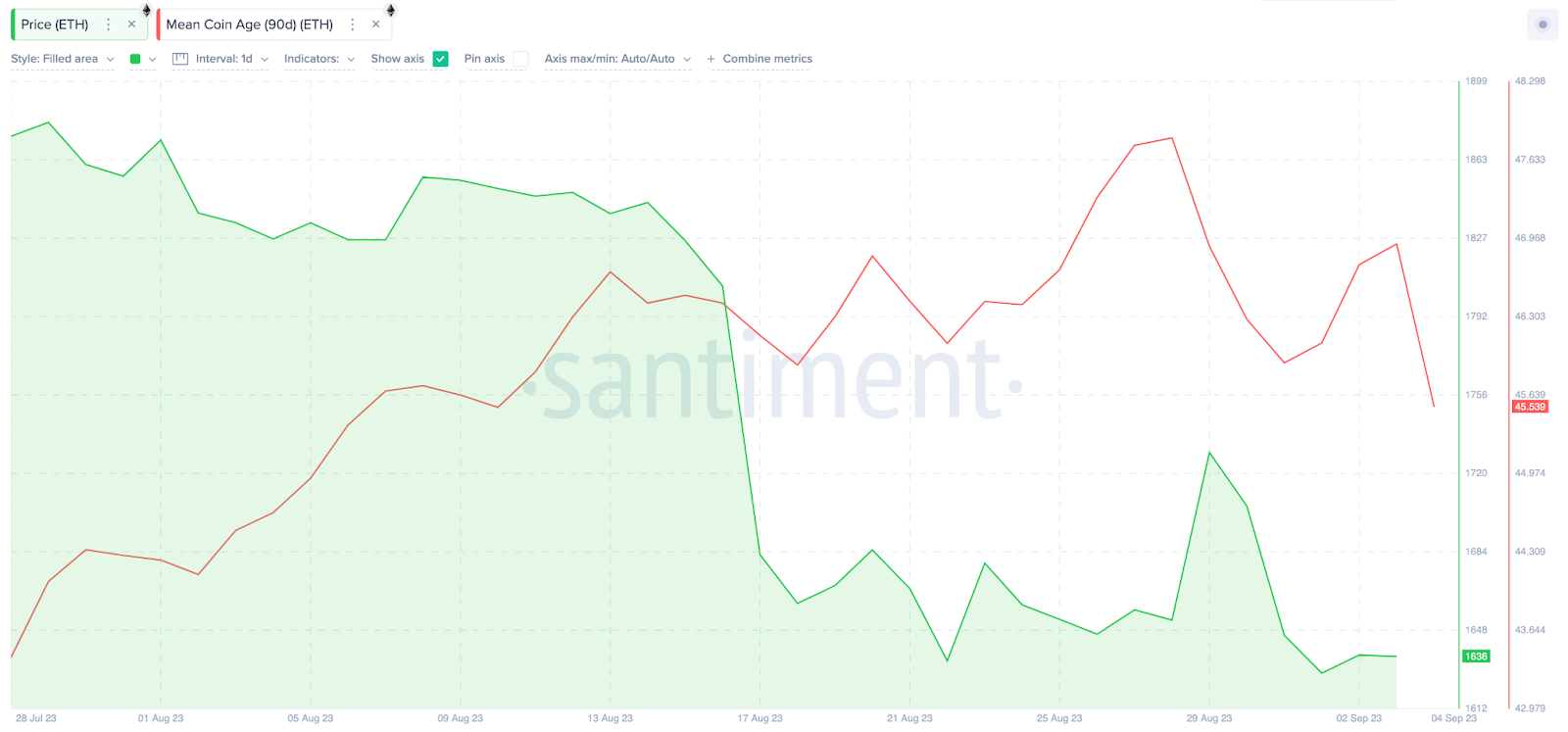 Ethereum (ETH) Price Faces Bearish Headwinds | Mean Coin Age, Sept 2023. Source: Santiment
Mean Coin Age is an on-chain that measures the overall trading sentiment among long-term investors. It is derived by estimating the average number of days that the total coins in circulation have spent unmoved from their current addresses.
A downtrend in the Mean Coin Age typically means that many long-held coins have been moved or sold off during that period. The chart above establishes a close correlation between the Mean Coin Age blips and recent ETH price corrections, especially around August 18 and August 29.
If this trend repeats, ETH holders can anticipate further price downswings in the coming days.
9 Best Crypto Day Trading Courses for Aspiring Traders
ETH Price Prediction: The $1,600 Support Level is at Risk
Based on the on-chain and derivatives market data analyzed above, Ethereum's price will likely lose the $1,600 support in the coming days.
The In/Out of Money Around Price data, which shows current ETH holders' entry price distribution, also validates this prediction.
However, as shown below, 2.5 million addresses had bought 3.12 million coins at the minimum price of $1,581. These holders could offer strong initial support if they buy more tokens to cover their positions.
But Ethereum's price could retrace toward $1,500 if that support level fails to hold.

Ethereum (ETH) Price Prediction | IOMAP data. Source: IntoTheBlock
Still, the bulls could overturn the bearish momentum if they can trigger a rebound above $1,800. However, as shown above, the 1.65 million current holders bought 5.4 million ETH at an average price of $1,700.
If that resistance sell-wall caves, Ethereum bulls could make an attempt to reclaim the $1,800 territory.
9 Best Crypto Futures Trading Platforms in 2023