Ethereum (ETH) jumped 4% this week to clear the $1850 resistance. With investors accelerating on DeFi staking, ETH looks set to make more gains in the coming days. Can the bulls gain enough momentum to validate the bullish $2,000 ETH price prediction?
This week, the cryptocurrency market experienced a surge as Ethereum (ETH) and other Layer-1 coins made sizeable gains. On-chain data shows that the rise in staking activities among ETH holders is a critical factor behind the current rally.
Here's why Ethereum investors are holding out for more gains in the coming days.
Ethereum Staking Reaches New All-time High
This week, the percentage of ETH circulating supply staked across the ETH 2.0 mainnet and DeFi smart contracts has risen to a new all-time high.
The chart below shows that after the recent blip on May 17, Ethereum investors have staked an additional 430,500 ETH as of May 22.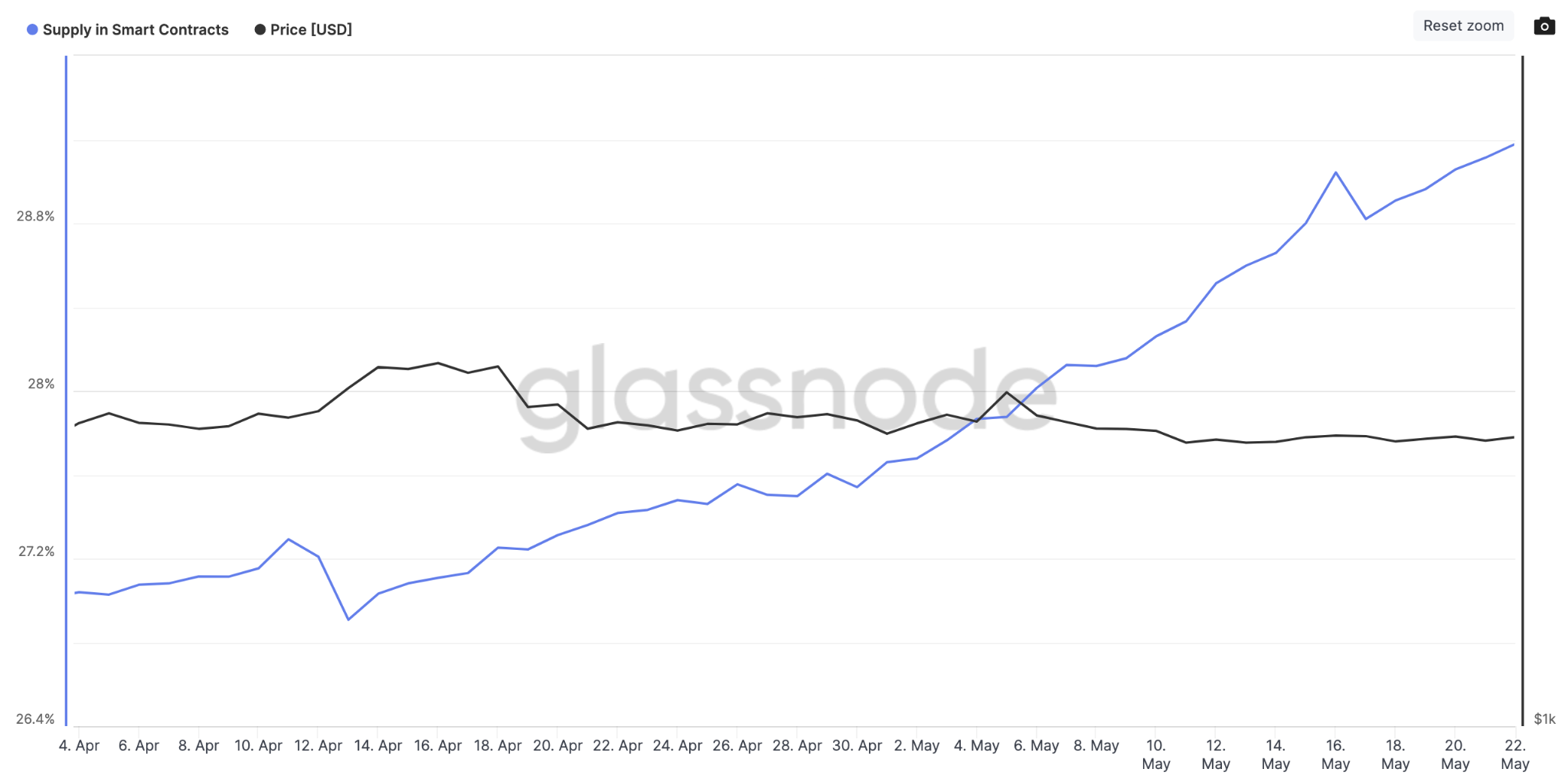 Ethereum (ETH) Price Prediction – May 2023. Supply in Smart Contracts – Source: Glassnode
The Supply in Smart Contracts metric tracks the percentage of a cryptocurrency's circulating supply that investors have locked up in various staking protocols. When it starts to increase, it cause a temporary shortage in market supply.
If Ethereum investors continue to stake at this rate, the recent ETH price surge could evolve into a prolonged bull rally.
ETH is Still Undervalued
Furthermore, the decline in ETH Network Value to Transaction Volume (NVT) ratio reveals that it is currently undervalued. The chart below shows how the Ethereum NVT ratio dropped 49% from 92.92 to 46.64 between May 20 and May 22.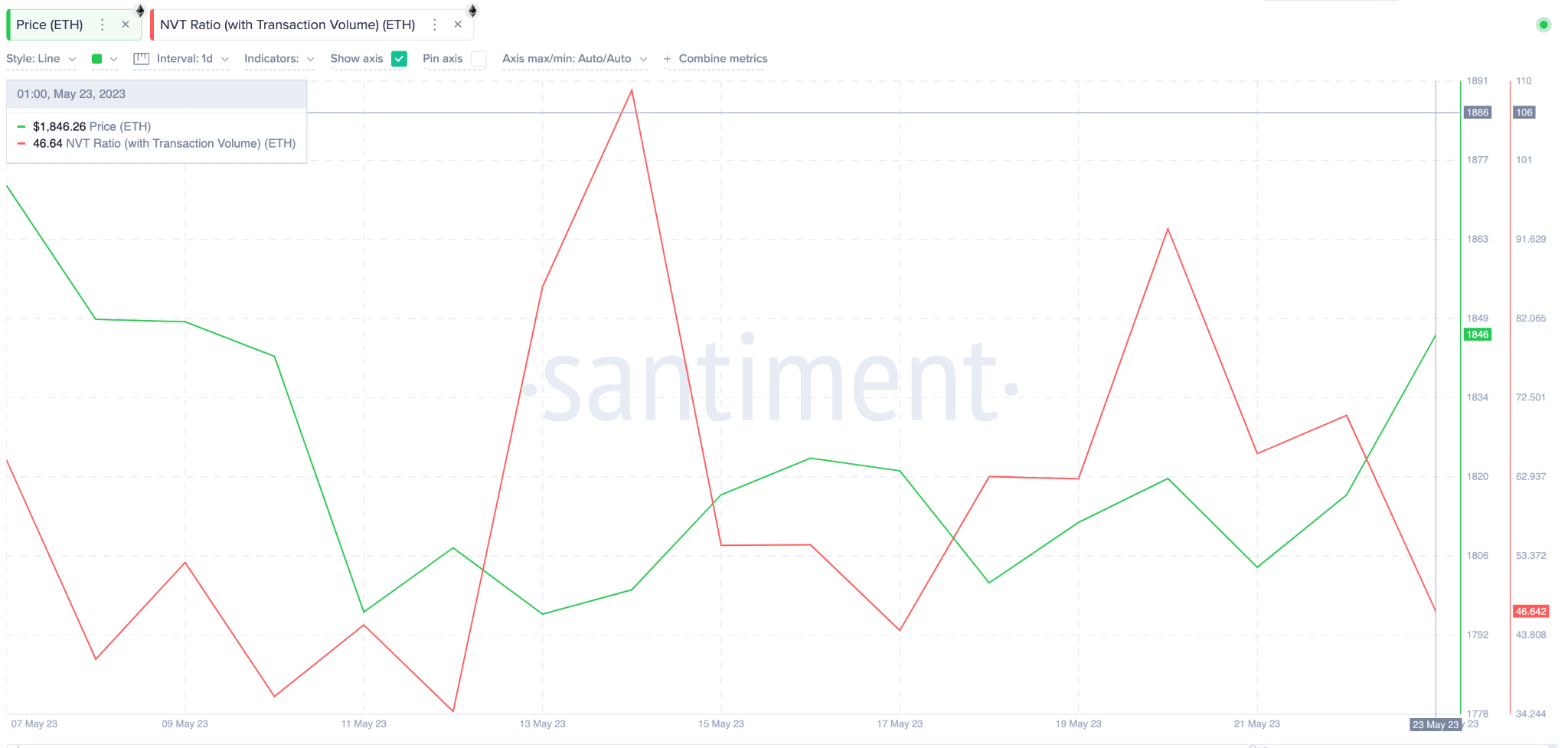 Ethereum (ETH) Price Prediction – NVT ratio. May 2023. Source: Santiment
Typically, strategic investors use the NVT ratio to assess the relationship between a cryptocurrency's market capitalization and the underlying transactional activity.
When the NVT ratio drops considerably, as observed above, it indicates that the asset is still undervalued and could be due to more price pumps.
In summary, the low NVT ratio could spur other investors to mirror the trades of the bullish whales. If that happens, the heightened demand could validate bullish ETH price predictions.
ETH Price Prediction: $2,000 is Within Reach
IntoTheBlock's In/Out of the Money Price Distribution data signals that ETH could soon reclaim the $2,000 milestone.
However, Ethereum could have difficulty breaking above the $1,925 resistance level. At that zone, 1.41 million investors holding 1.31 million ETH could sell when they break even around $1,925 and inadvertently trigger a pullback.
Nevertheless, as predicted, those holders could turn bullish if the bullish momentum strengthens. If that happens, ETH can break out and rally toward $2,100.

Ethereum (ETH) Price Prediction – May 2023 – In/Out of The Money price data. Source: IntoTheBlock
Still, the bullish Ethereum price prediction could be invalidated if ETH price drops below $1,800 again.
However, the 3.23 million investors that bought 4.86 million ETH at an average of $1,800 can offer some support.
If that support level cannot hold, ETH may drop to $1,750.