The demand for Ethereum liquid staking services has surged since the Shapella upgrade released staked ETH. As a result, Lido has become the dominant player as a very clear market preference for liquid staking tokens has emerged.
In its July 3 "Week On-chain" report, analytics firm Glassnode took a deep dive into the liquid staking space. One platform is growing in dominance, but this may not benefit the overall Ethereum ecosystem.
Ethereum Staking Surge
Despite the surge in liquid staking, Ethereum has recently been outperformed by its big brother Bitcoin. In the second quarter, ETH only managed a gain of 3.4%, whereas BTC surged 8.6% over the three-month period.
Glassnode also observed that the ETH/BTC ratio has fallen to a 50-week low of 0.060.
The same cannot be said for Ethereum staking, which has seen an increase of over 20% in total value locked since withdrawals were enabled in mid-April.
The report noted:
"Rather than seeing a wave of withdrawals, however, instead the upgrade has motivated a fresh wave of deposits, as stakers find confidence in this new flexibility."
Furthermore, staking deposits spiked on June 2, and deposits are still outpacing withdrawals.
Glassnode compared ETH volume staked with exchange inflow volume. It revealed that newly staked ETH has been higher or equal in scale to exchange inflows since Shapella went live.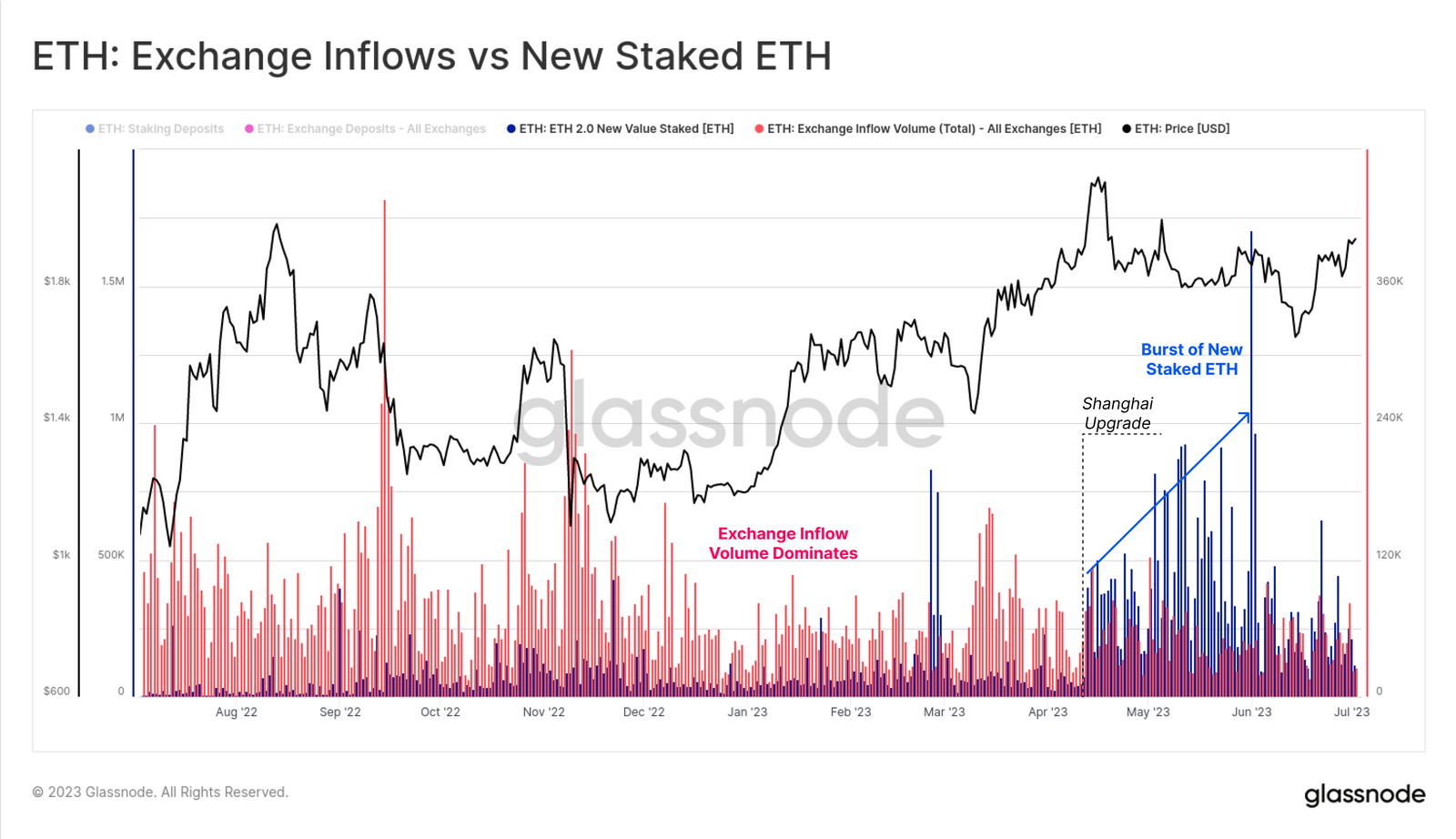 Exchange inflows vs. newly staked ETH. Source: Glassnode
Staking provider Lido is the dominant platform "reflecting a market demand for liquid staking tokens (LSTs)," it added.
Furthermore, a "huge wave" of new deposits has pushed Lido staking to a new all-time high of 7.49 million stETH.
"When comparing to other liquid staking competitors, Lido stands out as the clear leader in the sector with its supply 16 times higher than its nearest competitor."
However, Ethereum developers have cautioned over Lido's dominance which could cause a "cartelization" of blockspace.
ETH Price Outlook
The next big question on everyone's lips is: when will ETH prices reach $2,000?
Ethereum hit its highest price since May 6 today when it tapped $1,976. However, that psychological $2,000 barrier still eludes it as the asset has retreated back to $1,953 at the time of writing.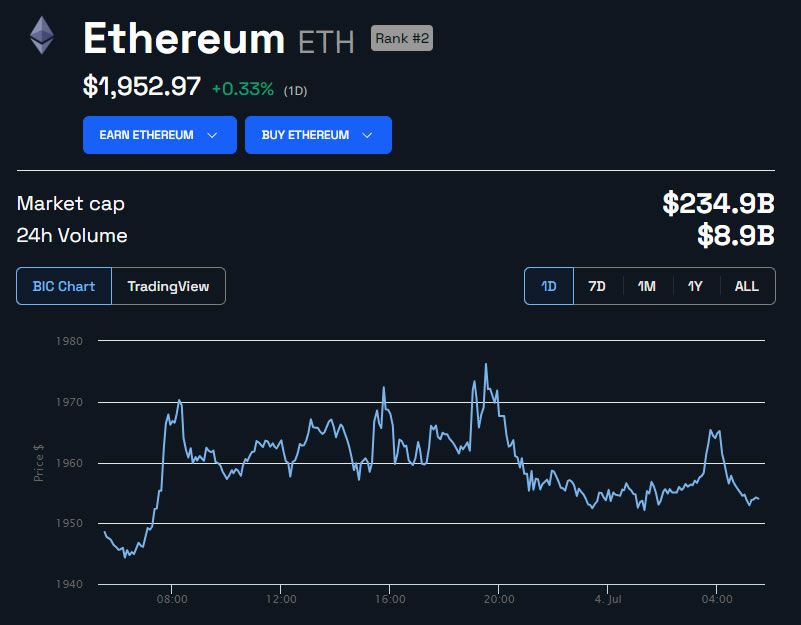 ETH/USD 1 day. Source: BeInCrypto
Ethereum has remained sideways since mid-March but is now approaching that channel's upper boundary.
Bitcoin is also at the upper limits and facing heavy resistance, but Ethereum is sure to follow if it breaks through.