The crypto community has been abuzz with anticipation over the potential approval of a spot Bitcoin exchange-traded fund (ETF) and its likely impact on BTC prices.
Enthusiasts believe that such an approval would ignite mainstream institutional adoption of Bitcoin, leading to increased liquidity and market participation, and potentially driving the world's leading cryptocurrency to new heights.
Commenting on the possible price impact of a spot Bitcoin ETF approval, widely-followed crypto market trader Ash Crypto analyzed how gold prices reacted after the first gold ETF got the green light in the US in 2004.
How much would Bitcoin be worth if it mirrors gold's ETF rally?
In his July 12 Twitter post, Ash Crypto posted a chart showcasing gold's price trajectory before and after the US lawmakers approved the first ETF for the yellow metal nearly 20 years ago.
Notably, the bullion soared by nearly 350% between 2004 and 2011. During that period, the price of gold skyrocketed from around $450 to more than $1,820 in August 2011, marking an increase of a whopping 346%.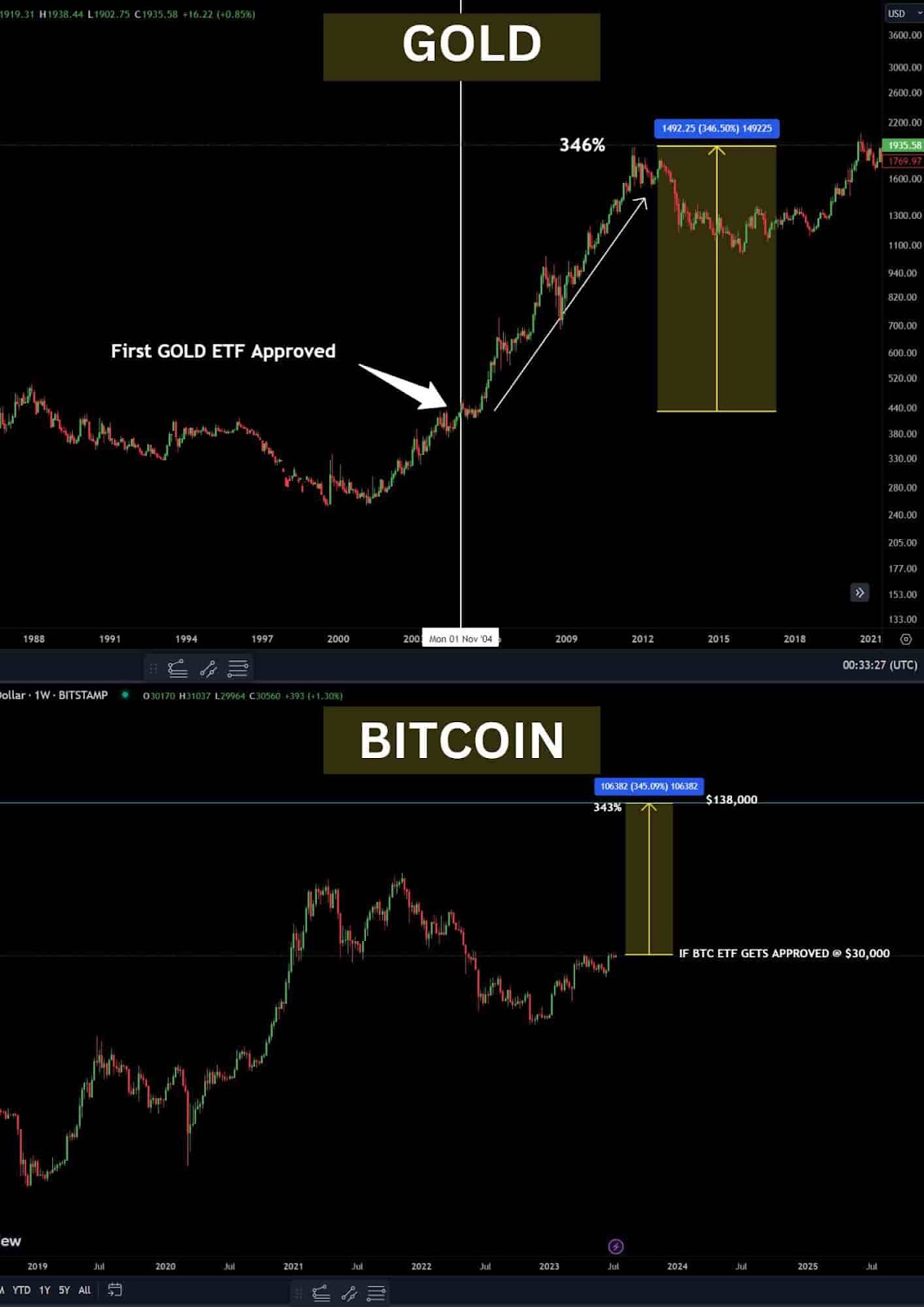 Assuming that a spot Bitcoin gets approved by US authorities, mimicking gold's jump of 346% would propel the biggest crypto asset to a jaw-dropping $138,000, the market expert highlighted.
"So if #Bitcoin ETF gets approved at $30,000, copying gold's 346% return after its first ETF approval in 2004 BTC price at a return of 346% would be at $138,000."

– Ash Crypto wrote.
If approved, it would represent the first-ever spot Bitcoin ETF to be made available to US investors. It is important to note that a spot Bitcoin ETF is not the same as a Bitcoin futures ETF.
In particular, the former refers to an investment vehicle that would provide investors with direct exposure to the crypto coin, while the latter derives its value from Bitcoin futures contracts rather than holding the actual asset.
Will spot Bitcoin ETF get approved?
On June 15, asset management behemoth BlackRock (NYSE: BLK) filed to launch a spot Bitcoin exchange-traded fund. In the following weeks, a string of traditional finance players followed suit, including Invesco, Valkyrie, Fidelity Investments, and more.
However, the US Securities and Exchange Commission (SEC) deemed BlackRock's application as inadequate, arguing it lacks clarity. BlackRock addressed the regulator's comments and refiled the application.
It remains unclear whether a spot BTC ETF will get approval, but it appears that big equity funds are expecting US regulators to give a nod. This is highlighted by the outperformance of Bitcoin-related stocks against BTC, according to crypto investor Andrew Kang.
"Bitcoin related equity outperformance vs BTC is an indication of big equity funds placing high expectations on $BTC ETF approval. These guys have seen dozens of ETFs approved during their careers."

– Kang noted.
This suggests that crypto investors appear to be underpricing spot BTC ETF approval odds, Kang noted, as well as its potential timeline.
Disclaimer: The content on this site should not be considered investment advice. Investing is speculative. When investing, your capital is at risk.