Both the monthly and yearly Bitcoin absorption rates are currently negative. Analysts are reading this as a bullish sign for the price of BTC.
With Bitcoin yet to break through $32,000 this year and below $30,000 for much of the past week, the negative absorption rate could be good news for investors hoping it will climb higher.
What is the Bitcoin Absorption Rate?
The Bitcoin absorption rate is a metric that compares mining rates with changes in the balance of BTC on exchanges.
Bitcoin analysts look at the absorption rate over different periods to gauge demand for Bitcoin.
If most people are selling their BTC, then exchanges will absorb more than miners create. On the other hand, if exchange inflows are less than the volume of Bitcoin mined over a given period, then it indicates wallets are absorbing the fresh supply.
Aside from time periods, another variable used to calculate absorption rates is the size of wallets that are accumulating BTC. For example, data can show whether whales are stockpiling crypto faster than miners can create it. The same is true for other cohorts.
Read More: Bitcoin (BTC) Price Prediction
BTC Accumulation Indicates Higher Prices on the Horizon
When it comes to predicting what will happen to the price of Bitcoin, analysts watch absorption rates for clues as to whether wallets are accumulating assets.
The monthly rate of Bitcoin absorption has remained negative since May. What's more, the yearly absorption rate currently stands at around -100%. This means that investors have accumulated twice as much BTC over the past year as miners have created.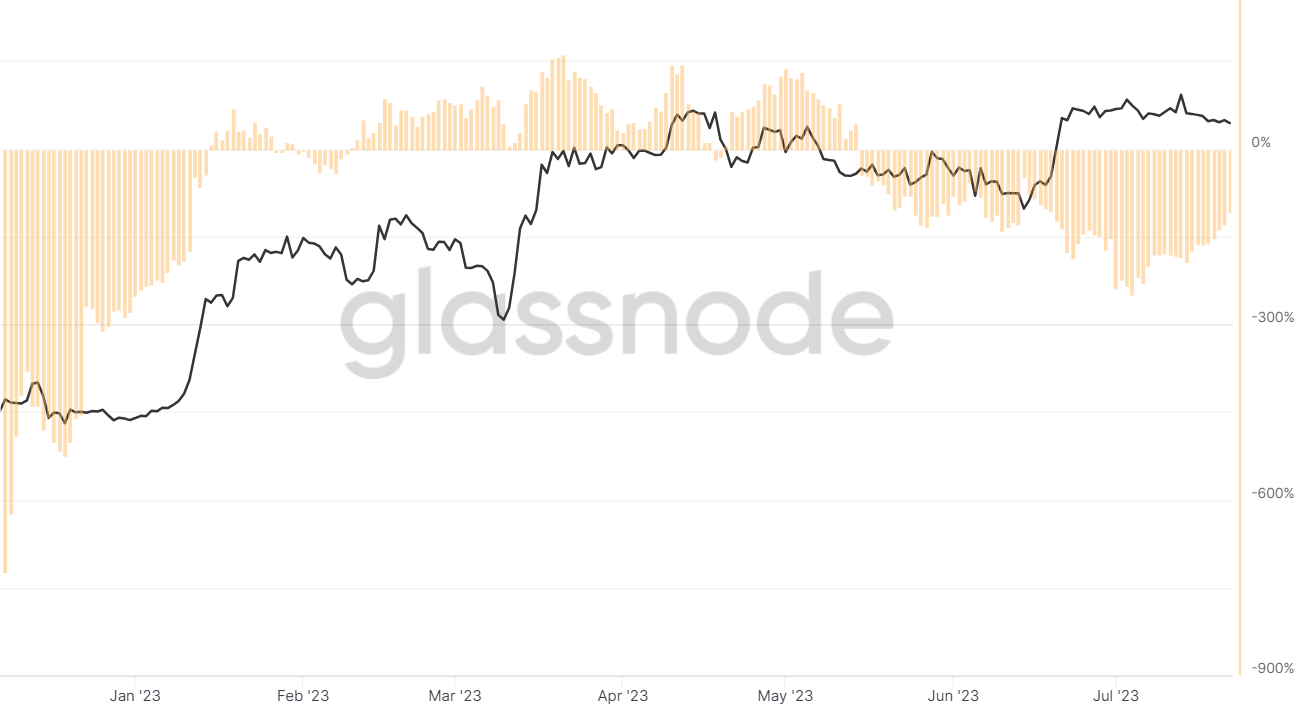 Bitcoin Monthly Absorption Rate (Source: Glassnode)
If wallets accumulate more coins than miners create, demand will outweigh supply. For this reason, many analysts read negative absorption rates as a bullish indicator for future prices.
For example, the YouTuber James Mullarney discussed bitcoin absorption in a video published this week. His assessment was optimistic.
The crypto influencer with 446,000 YouTube subscribers told viewers that the current absorption pattern indicates "much higher prices in the future." Additionally, he pointed out that the 2020-2021 bull run coincided with, and then outlasted, a similar period of sustained negative absorption rates.