Investment funds backed by digital assets saw their largest weekly inflows in a year last week, with $199 million being added to the sector.
The inflows were the largest since July 2022, and made up almost half of the prior nine consecutive weeks of outflows, the crypto investment and research firm CoinShares wrote in its latest fund flows report.
The large inflows seen for the week marks a significant change from the week before, when the sector saw net outflows totaling $5.1 million.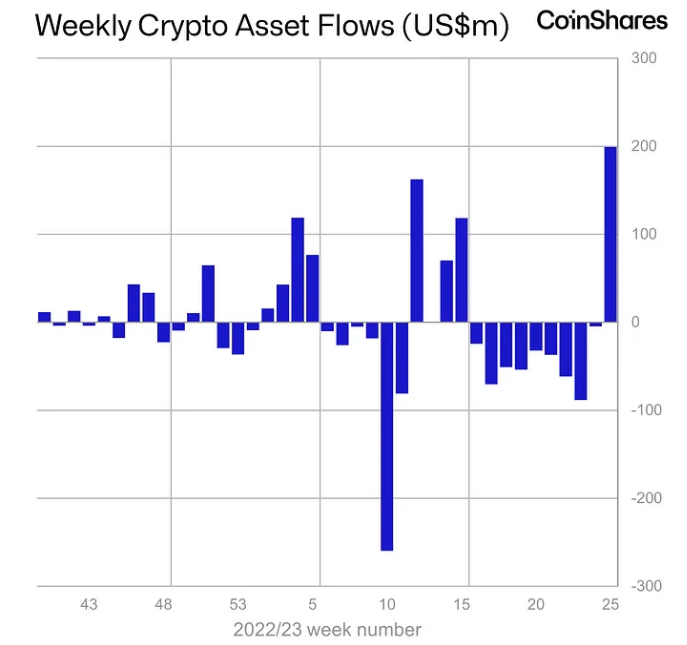 According to CoinShares' report, the surge in inflows was driven mainly by funds backed by Bitcoin (BTC), which saw $187 million in inflows for the week, up from net outflows of $0.5 million the prior week.
The Bitcoin flows made up a whopping 94% of the total flows last week, which indicates just how dominant Bitcoin is over other cryptoassets among investors in crypto-backed funds.
Interestingly, the category that saw the largest outflows last week were short-Bitcoin funds, an indication that sentiment among Bitcoin investors has improved drastically in recent weeks.
Among the altcoin-backed funds, Ethereum (ETH) funds stood out with inflows of $7.8 million, while funds backed by baskets of multiple digital assets saw inflows of $8.1 million.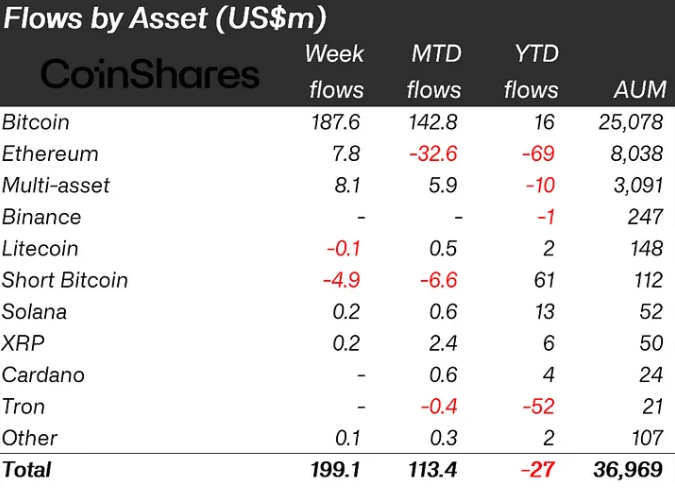 Flows by country
Interesting to note is that the largest inflows for the week came from Germany with $85.5 million, up sharply from $2.4 million of inflows the week before.
The next countries on the list were the United States and Canada, which were responsible for inflows of $58.9 million and $45.3 million, respectively.
BlackRock ETF application boosts sentiment
The inflows came after BlackRock, the world's largest asset management firm, on June 15 filed an application to list a spot Bitcoin exchange-traded fund (ETF).
"We believe this renewed positive sentiment is due to recent announcements from high profile ETP issuers that have filed for physically backed ETFs with the US Securities & Exchange Commission," CoinShares commented in its report.
It added that total assets under management in crypto-backed funds now stand at $37 billion, "their highest since before the collapse of 3 Arrows Capital."