Even as the crypto market reacted wildly to a judge's partially favorable ruling in Ripple's legal battle with regulators, and Ripple's XRP went up 25%, dire warnings sounded about that part of the decision that did not favor Ripple.
Much of the market has been celebrating and the effect on XRP was quick and dramatic. Yet District Judge Analisa Torres found that while Ripple acted within the law in selling its token on public exchanges, the exchange still violated federal securities laws. Notably in the unregistered sale of $728.9 million to sophisticated investors.
Ripple XRP Sold as Investment Contract
While Ripple's lawyers persuaded Judge Torres of some of their arguments, they failed to sell her on points that would have fully exonerated the exchange.
In a filing in the United States Court for the Southern District of New York, the judge details her reasoning. Judge Torres goes to some lengths to explain why the ruling was not 100% in favor of Ripple.
The filing notes that Ripple's directors have never denied that they set out to sell XRP through interstate commerce. Nor the fact that they did not file a registration statement with the Securities and Exchange Commission (SEC).
To hear Ripple tell it, no registration statement was necessary because XRP was not a security. The exchange and its lawyers argued that an "essential ingredient" of a security was missing from the product it sold.
An investment contract by definition must have a contract of some kind, they argued. In this case, that would mean the presence of post-sale obligations on the part of the promoter. Along with the investor's right to share in the promoter's profits.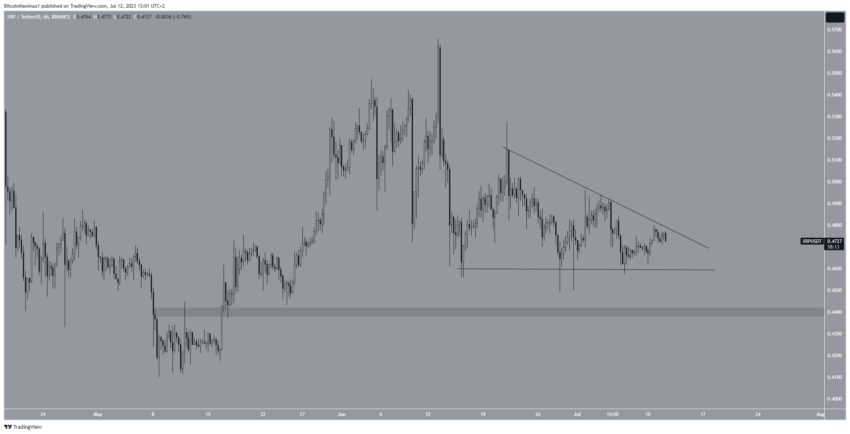 XRP sales have fluctuated during Ripple's legal battle with regulators, as shown in this XRP/USDT Six-Hour Chart. Source: TradingView
XRP Argument Not Supported by Existing Case Law
In her response, Judge Torres cited longstanding securities law precedent to rebut these claims. Namely by proving that an investment contract need not include such components. Many cases since the 1946 Howey Test have established the truth of this, Torres argued.
"In the more than seventy-five years of securities law jurisprudence after Howey, courts have found the existence of an investment contract even in the absence of Defendants' 'essential ingredients,' including in recent digital cases in this District," Torres wrote.
As examples, Torres cited the cases of SEC v. Kik Interactive Inc. and Balestra v. ATBCOIN LLC.
The judge quoted from a filing in the latter case:
"ATB Coins did not entitle purchasers to a pro rata share of the profits derived from any ATB-managed transaction. . . . However, such a formalized profit-sharing mechanism is not required."
Judge Torres found the ATBCOIN case analogous to the Ripple v. SEC battle. And, just as the lack of any purchasers' right to a share of profits in that case did not get the defendant off the hook, Ripple is not exonerated just because no back-end mechanism guaranteed XRP investors any profits.
Hence, the "essential ingredient" defense fails. And Ripple is not out of the woods yet.