In a recent analyst note by Mike Colonnese, CFA, the focus shifts to the recent developments in the Bitcoin (BTC) market and its implications for the future.
The study details BTC's reactions to significant sell-offs, the reasons behind the previous week's sharp decline, and prospects for BTC in a recessionary environment.
BTC's Recent Decline and Its Effects
Bitcoin saw a 10.6% decrease week-on-week, settling at $26,176 by week's end. This decline triggered a 20% slump in mining stocks, underperforming the S&P 500 (-2.1% w/w) and the  Nasdaq (-2.6% w/w).
Yet, the network hash rate surged by 8.8% week-on-week, touching 410 EH/s (seven-day average) — a notable high.
Interestingly, while the BTC price fell, the network difficulty remained steady at 52.4T.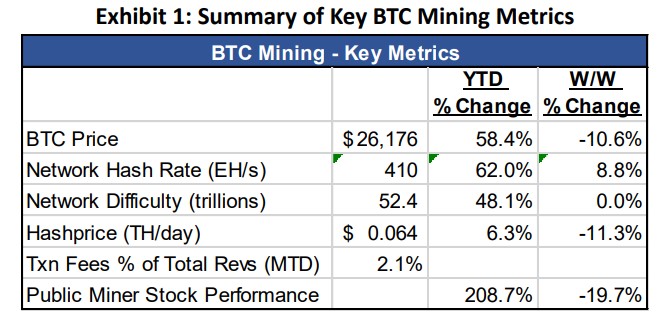 The price dip caused an 11.3% drop in hash prices to $0.064/TH/day, highlighting the intricate BTC ecosystem dynamics.
Causes for the Decline
The report points out two significant factors for the swift sell-off:
SpaceX's decision to reduce its BTC holdings value by $373 million due to Elon Musk's influence on crypto markets.
The bankruptcy of Evergrande, a significant Chinese property developer, on August 17, 2023, sparked worries about China's economic state and the global economic climate.
BTC's Potential in Economic Slumps
Colonnese delves into how BTC might fare in an economic downturn. If the Federal Reserve slashes rates during a US recession, it might bolster BTC prices.
Furthermore, if BTC maintains its store-of-value reputation, it could even surpass other risk assets during recessions.
BTC Mining Data
The report offers a glimpse into the operations of major Bitcoin mining corporations.
Exhibit 3 encompasses BTC mining industry stats from company reports, featuring firms like Marathon Digital Holdings, Core Scientific, and Riot Blockchain.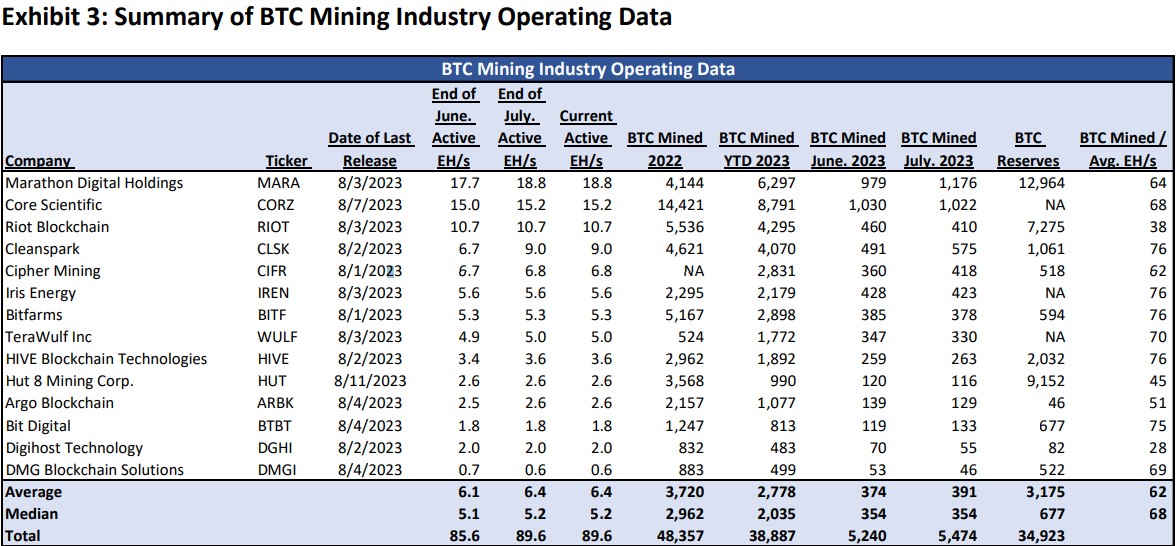 Exhibit 4 displays details about BTC mining firms, their active EH/s, and BTC mined stats. As of now, BTC's performance has surged by 58.4% year-to-date.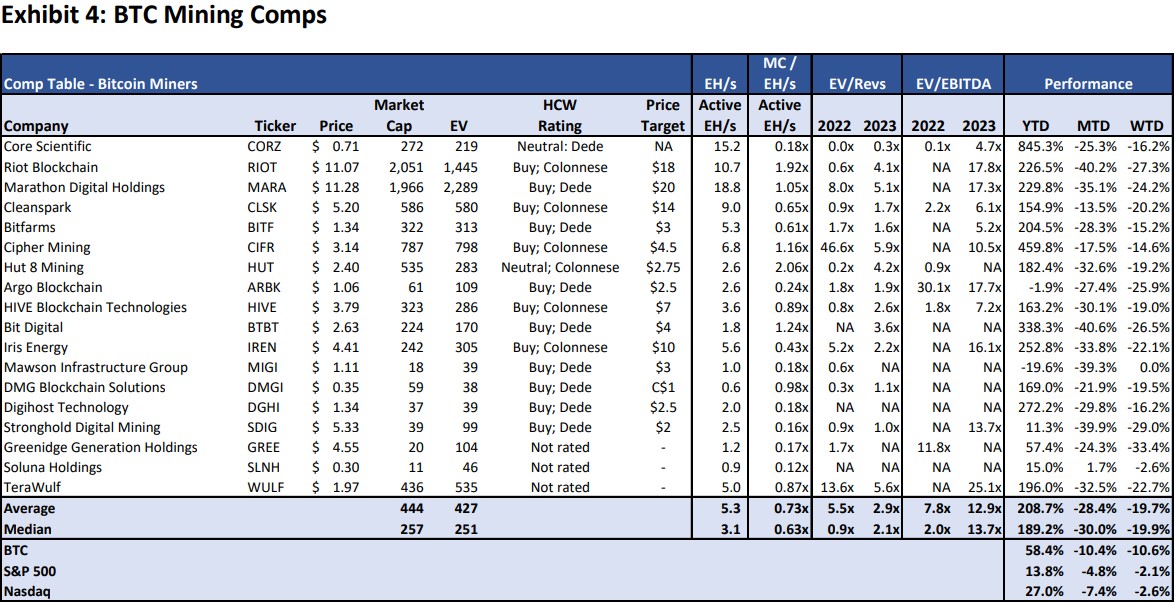 In comparison, the S&P 500 has risen 13.8% YTD, whereas the Nasdaq has jumped 27.0% YTD.
Company Ratings as of Aug 21, 2023
The report also showcases ratings for various corporations as of August 21, 2023. The rating system consists of "Buy," "Neutral," and "Sell."

For instance, Argo Blockchain plc (ARBK) is tagged as "Buy" with a 12-month target price of $2.50.
Rating Distribution
The distribution table from August 21, 2023, emphasizes the optimistic and neutral evaluations of the reviewed firms.

Of the rated companies, 88.46% received a "Buy" rating, with 25.54% newly categorized as such.
"Neutral" ratings were given to 10.10% of companies, and among them, 19.05% were recent additions.
No companies received a "Sell" rating, while 1.44% were marked "Under Review," with 33.33% having undergone this assessment in the last 12 months.
This distribution emphasizes the positive and neutral outlooks among assessed companies.
Upcoming Catalysts and Final Thoughts
The impending approval of a US spot exchange-traded fund (ETF) could spur BTC demand. Moreover, the approaching halving event in April 2024 is expected to cut the new supply rate to 450 BTC/day.
In summary, the study offers a thorough insight into BTC's latest trends, driving factors, and future prospects. As BTC continues to show resilience, stakeholders closely monitor its reactions to shifting market dynamics.